THS

girls fall to Mill Valley in home opener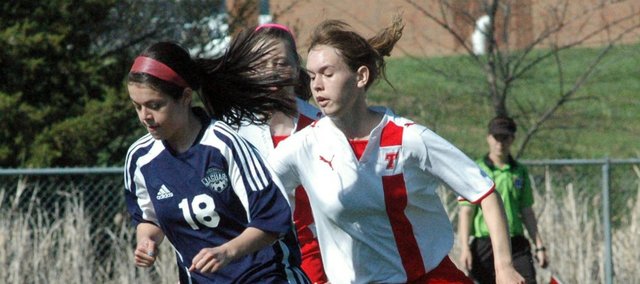 When Tonganoxie High squared off against Mill Valley last season, the Chieftains trailed the defending league champions by just one goal at halftime. This time around, though, the Jaguars erased any doubt immediately.
MVHS took control with two goals in the first 2:55, and coach Justin Seever's squad never recovered in a 10-0, home-opening loss.
"That's our league champ. They're the best team on our schedule, hands down," Seever said of Mill Valley. "They've got a couple girls that are going D-1 next year. They do all the little things right."
The Jaguars wasted no time getting on the scoreboard, as Lauren Gibson got the ball by THS sophomore goalkeeper Emma Stilgenbauer just 1:12 into the first half. Mill Valley's Abby Sieperda doubled the deficit with a goal of her own at the 37:05 mark, and the rout was on.
Gibson Sieperda were two of four Jaguars to score two goals each. They were joined by Kelsey Wakefield and Mackenzie Conklin.
"It's nice that we had a lot of different people put the ball in the back of the net," Mill Valley coach Arlan Vomhof said. "We're not relying on one or two people to do everything for us. It's nice that they kind of shared the wealth and passed it around."
Wakefield got in on the scoring next, cashing in twice in less than 30 seconds. Sieperda, Conklin and Kayla Hamner followed that up with one goal each to make it 7-0 with 8:47 left.
Stilgenbauer didn't allow another ball by her in the period, but the Chieftains (0-4) failed to cut into the deficit. Their best opportunity came when junior Molly Welsh broke free down the right side of the field, but her shot attempt was stopped by MVHS goalkeeper Megan Hightower.
THS, which has just one goal in its first four games, struggled to find scoring opportunities. The Jaguars kept the ball on the Chieftains' side of the field for the majority of the contest.
"That definitely killed us," Seever said. "We're already having trouble scoring, then when the ball is on our half, we were morally defeated at that point."
Senior Alyssa Miller took over goalkeeping duties for Stilgenbauer in the second half, but THS couldn't prevent the mercy-rule shutout. Mill Valley's Carlie Howe scored with 38:20 remaining and Gibson followed suit less than seven minutes later. Conklin ended the game with her second goal at the 23:58 mark.
THS will try to bounce back Thursday when it travels to De Soto.
"You never want to see a 10-spot on the board with a zero on the other side, especially on your home field, but it is what it is," Seever said. "We'll get back to work tomorrow regardless."