Arrangement displays 50 years of memories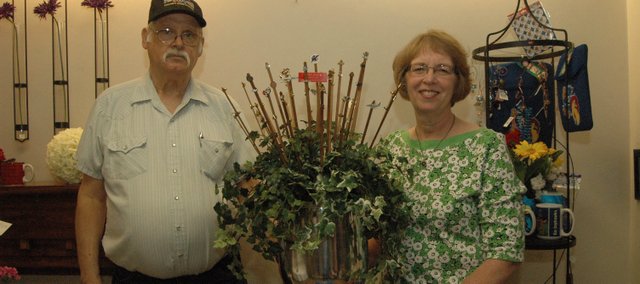 Larry Turpin saw Corlis Weeks' "floral" arrangement for the first time this past week, triggering strong emotions for Turpin.
"The very instant I seen it, it was like seeing 50 years of my life in one second," Turpin explained. "It kind of hit me by surprise."
Turpin, a rural Leavenworth County resident, had approached Weeks, owner of the McLouth Flower Loft in downtown McLouth, about creating an arrangement out of assorted service and other pins from his more than 50 years of working with airplanes. Turpin, who is 71, joined the Air Force in 1958 and worked at what is now Charles B. Wheeler Downtown Airport in Kansas City, Mo., starting in 1963 and later at Kansas City International Airport, which opened in the early 1970s.
He worked in fleet service initially with Trans World Airlines and then moved months later to a new position as a mechanic. He worked at TWA for some 40 years, finishing up with American Airlines. More than half of his career was spent as a mechanic and the rest as an inspector in engine overhaul and airframe overhaul. He retired in November 2008.
He approached Weeks in February about taking on the project of displaying roughly 55 pins in an arrangement — after the Valentine's Day rush of course.
The base of the arrangement is a silver Douglas DC 3 prop dome, which on a plane would contain all the inner workings of a propeller, Turpin said.
His wife, Jeanne, had visions of it being a flower vase.
Instead, the pins are attached to Balsa sticks that shoot up from the prop dome with artificial ivy at the base.
"It's different," she said with a laugh, pausing between words. "I'd like to use it for flowers, but this will work. He lead me astray thinking it was going to be for flowers."
Weeks estimated that the arrangement took about nine total hours to complete during the last month or so.
"I would say it's one of the more unique things," Weeks said. "We do from time to time get different projects people don't know where to go to have them done.
"But this is definitely a one of a kind. Definitely."
The arrangement sets in a base made of walnut wood from Basehor Awards and Trophies.
From a Snoopy Red Baron pin to various pins shaped as airplanes, Turpin's arrangement doesn't lack in variety. He has developed a fondness for planes through the many years working on them, noting "there's no bad airplane to work on as far as I'm concerned," he said.
Weeks' work, which Turpin said captured her artistic ability, allows him the chance to reminisce about his many years in the airplane industry with a simple glance at the arrangement.
But ask him to select one of the many pins in his unique arrangement that is his favorite, and he struggles to single out any specifics.
"It's hard to find any one of them any more meaningful than the rest," Turpin said.