Council plans 2nd interviews with 2 administrator candidates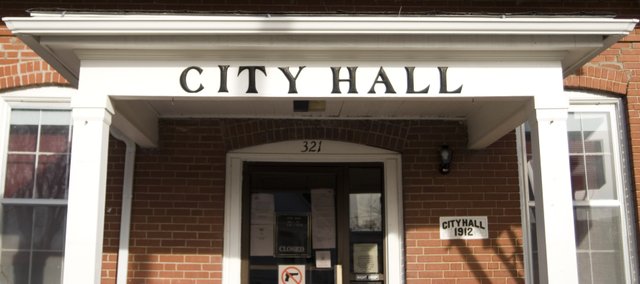 The Tonganoxie City Council plans to have a second round of interviews with city administrator candidates after meeting with four of them this past weekend.
The council met in executive session a total of four hours, 10 minutes Saturday to interview two candidates and have discussion, and it met for another four hours, 30 minutes to meet the other two candidates and discuss further on Sunday.
Mayor Jason Ward said the council plans to schedule follow-up interviews with two of the candidates this coming Saturday.
Council member Andy Gilner was absent from both days of executive sessions.
The council also met for 35 minutes Saturday in executive session to discuss trade secrets with a third party. No one outside of the council joined in that executive session.
The council will look to replace Mike Yanez, whose contract the council voted not to extend last year. Yanez has been retained on a month-to-month basis.
Yanez's $87,838 annual salary was set to expire Dec. 31. Since then, he's been paid on a month-to-month basis at $6,540 per month to remain city administrator until a new person is hired to that post.
Also Saturday during the special meeting, the council approved, 4-0, the granting of easement to Billy Eugene Lowe at 108 N. Main for purposes of ingress and egress of his property through the right of way.
The building permit for the property was issued in 1989 to John O. Coffman, but there is not a driveway depicted on the site plan. The drive ultimately was constructed to Main Street without an access agreement. Lowe is attempting to refinance the property, and a title insurance company is requesting an easement be granted to allow access to the home from Main as is currently being used, according to the city.
Here's a recap of the March 26 regular meeting in which the council:
• Approved, 4-0, payment of $2,007.69 to Diamond International for dump truck repairs, $2,415 to Lochner for planning services, $3,068.50 to Micro-Comm Inc. for repairs on the wastewater plant computer system, $9,473.18 to Tonganoxie Public Library for ad valorem taxes and $3,270 to Mike Yanez for the second half of his March city administrator services reimbursement. Council member Jim Truesdell was absent.
• Accepted, 4-0, the planning commission's recommendation to approve a special use permit for Brandon Gier for a catering business on his property. Gier plans to run a catering business out of a building on his property at 119 Hatchell Road.
• Heard from Janet Falk with the Tongie Tidal Waves about plans to have league meets at Tonganoxie Water Park. Falk established the swim team three years ago, with 35 swimmers joining the club the first year, 70 the next year and 85 last summer. Falk said she's been working with pool manager Darren Shupe to schedule meets when the pool would be available. The Tidal Waves will play host to a meet June 22 against Piper and July 6 against Turner. In addition, the league meet will be July 10, 11 and 13, with preliminaries taking place July 10 and 11 and finals on July 13.
• Approved, 4-0, a rezoning request from Kelly Smith from limited business district to planned commercial district for a business to be at 103 W. Fourth St. Smith also is in the process of opening a car lot at the former Casey's location at U.S. Highway 24-40 and Kansas Highway 16.
• Discussed financing for the proposed new police station. Chief Brandau discussed the proposed station at 725 Laming Road, which is home to Everlasting Specialties. Brandau said he and City Attorney Mike Kelly are working with owners on a contract for the turn-key $875,000 purchase price.
But Brandau was looking at other options, such as purchasing the building without the turnkey option and doing minimum work necessary to move the station there.
In 2013 an architect could complete the police station portion and in 2014 finish the project, Brandau said. The turnkey option was considered for ease of occupying the building; however, some discrepancy has come up as to what the Brandau considers needs versus the turnkey budget for Steve LaForge and Jim Bennett, owners of the building.
Council member Bill Peak voiced concerns that the $875,000 should have included all of Brandau's needs and that it was understood any additional costs would be the responsibility of the owners to cover.
Kelly said he was working with LaForge and Bennett to assemble an agreement that covers Brandau's needs.
• Heard from Fire Chief Dave Bennett about expansion of the Fire Station at its current location. He provided background on this project, including $200,000 funding that was given to the fire department from the bond issued for the Fourth Street Project, Phase 4. He also requested approval to use funds from the Equipment Reserve, not to exceed $29,459.01, for a contingency fund. The fire department will be retiring a lease payment this year and another one in 2013.
Bennett said the department would be the general contractor with much of the construction completed by the fire department. The work that cannot be completed "in-house" will be put out for bid. The fire station expansion will be an L-shaped building with a breezeway that attaches to the current station.
BG engineers will initially design the expansion.
The council approved, 4-0, use of funds from the equipment reserve fund, not to exceed $29,459.01, and to advertise for not less than three bids and accept the best quoted price for the work as specified.
• Met in executive session for a total of 30 minutes to discuss trade secrets with a third party. Joining the council were City Attorney Mike Kelly, Dean Oroke and Oroke's real estate agent, Dan Lynch.