THS

named Cool School of the Week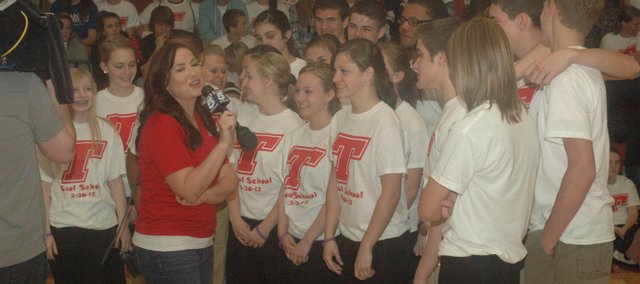 A majority of Tonganoxie High School students were wide awake and ready for the cameras at 5 a.m. Friday in the THS gymnasium.
Students gathered for KCTV 5's Cool School of the Week visit as THS was featured from 5-7 a.m. on the CBS Kansas City affiliate.
KCTV 5's Iris Hermosillo interviewed various THS groups, including the Tonganoxie High School Family, Career and Community Leaders of America chapter, the Science Olympiad team and the Chieftain Stars dance team. The dance team has a tradition of dancing with select THS boys for a routine during the final basketball game of the season. The group performed the dance Friday morning.
Hermosillo asked dance team member Maggie Gripka about selecting a partner for the dance.
"My main requirement is will they drop me or not," Gripka joked.
The debate and Science Olympiad teams were featured as well as Team Tongie and Students Representing Students. The THS band and Chieftain Singers also performed.
Plenty of other activities took place Friday morning. Hula hoop and ping pong tournaments were two of the activities, as well as a battle of the bands. The morning concluded with students throwing balloons in the air as USD 464 Superintendent Randy Weseman showcased his musical talents with an electric guitar solo.
THS activities director Brandon Parker said that most of the student body — about 92 percent or 575 students — attended the morning activities. If students made it to the school by 5:19 a.m. Friday, they were allowed to get out of school at 1 p.m. that day.
Parker said that administrators discussed the Friday plans during a Thursday assembly and students inquired about a campout overnight leading up to Friday.
Parker said he, as well as principal Jamie Carlisle, assistant principal Brent Smith and teacher Lindsey Graf, supervised the campout in the THS parking lot.
"We trusted the kids to do the right thing and that just meant we would get less sleep," Parker said.
Student body president Jonas Myers was presented with a plaque recognizing THS as the Cool School of the Week. Wendy's also sponsored the event and handed out keychain cards good for a free Wendy's Frosty with each visit to the restaurant.
KCTV 5 viewers nominate schools for consideration. Basehor-Linwood was a Cool School of the Week earlier this year.