Yates leads
THS

golfers to third-place finish
Chieftains tally 314 at Mill Valley Invitational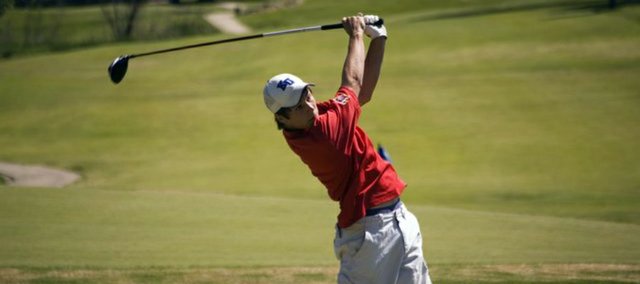 After more than a week between competitions, the Tonganoxie High golf team finally returned to the links Wednesday at the Mill Valley Invitational.
The Chieftains took third in the team standings with a score of 314 at Olathe's Prairie Highlands Golf Course. They tied with St. James Academy, but won a scorecard playoff.
"I thought we did OK," coach Jared Jackson said. "Comparing it to last year, we were 16 shots better at this tournament, so that's a real positive. Our score as a team was two short of our school record."
Blue Valley Southwest won the tournament with a 303, defeating second-place Piper by just one stroke.
Individually, THS was led by senior Colby Yates. Yates, who opened the season with an individual title at the Sunflower Classic, placed fourth overall with a 73.
Yates was one of three Chieftains to finish under 80. Others included junior Aaron Williams (78) and senior Kody Campbell (79). Sophomore Drew Sandburg and senior Tanner Hale rounded out the team's scoring with an 84 and 85, respectively.
"I'm definitely happy with that," Jackson said. "Kody had a rough last two holes, but he played really well through most of it, and Aaron was one hole away from having a really good score. Drew and Tanner are probably a little disappointed, but overall, I think we were pretty happy."
THS will be back in action Monday when it plays in the Lansing Invitational. Jackson said he'd use Sandburg, Williams and junior Tyler Hall, as well as three junior varsity players for the tournament.