McLouth softball splits
DH

with Oskaloosa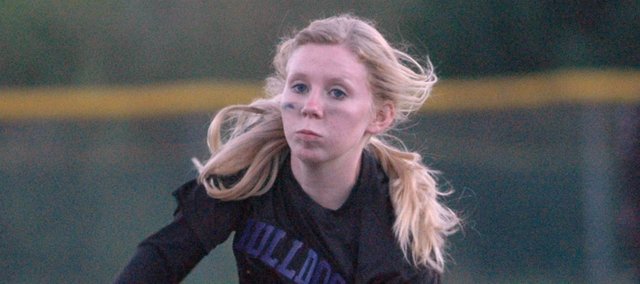 Photo Gallery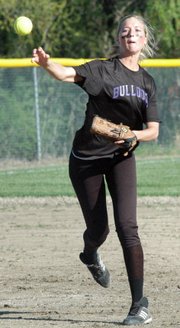 McLouth High softball vs. Oskaloosa
The MHS softball team split a doubleheader Thursday against Oskaloosa. The Bulldogs dropped the first game, 5-3, but bounced back with a 6-0 win in the nightcap.
McLouth — The McLouth High softball team tasted defeat for the first time this season, but according to coach Ballard Patterson, it couldn't have come at a better time.
The Bulldogs (5-1) suffered their first Delaware Valley League loss in four years, dropping a 5-3 decision Thursday against Oskaloosa. They didn't take long to return to the win column, though, as they responded with a 6-0 victory in the second game of the doubleheader.
"We needed (the loss)," Patterson said. "We had scored 76 runs in our first four games, then we came out and saw a pretty good pitcher. All of a sudden, we were taken aback. I think it shocked us."
Senior Kendra Leach, who threw a three-inning perfect game against Pleasant Ridge on April 2, found herself in a pitcher's dual with Oskaloosa's Lakin Thompson. The duo combined for 22 strikeouts in the opener. McLouth took advantage of a first-inning error to grab an early run, as Leach advanced from first to third on a fielding error and later scored on an RBI groundout by fellow senior Morgan Drinnon.
That was the only run either team could manage in the first two innings.
After retiring six of the first seven OHS hitters, Leach hit a snag when Shyan Courtney led off the third with a double. Courtney scored on an RBI single by Brooke Beach, and Haley Pfau gave the Bears the lead with a two-run home run.
"To put it in boxing terms, that staggered us," Patterson said of the homer. "It took us a couple rounds to catch our breath and get ourselves back together."
Pfau went 3-for-3 in the game, including a double.
The Bulldogs got one back in the bottom of the inning when Leach scored on another Oskaloosa error.
The teams combined for just one hit over the next two innings — a one-out single by Leach in the fourth — before the Bears broke through again. Patterson elected to intentionally walk Thompson and load the bases, but Leach overthrew catcher Taylor Pope, allowing Pfau to score from third. Jordan Miller later scored on a passed ball for the final OHS run.
MHS made one final attempt to extend the game in the bottom of the seventh. For the third time, Leach scored as a product of an error, and sophomore Konner Patterson walked to load the bases with two outs. However, Thompson slammed the door on the comeback attempt when she struck out sophomore Marissa Raya.
"That couldn't have been a better growing moment for Marissa," Ballard Patterson said. "If she comes through, great. If she doesn't come through, she learned 'I've got to figure out a way to get it done.' It was a great learning moment for our team."
Thompson picked up the win, striking out 12 in seven innings. Leach also went the distance, striking out 10.
The Bulldogs regained their composure in the nightcap and rode the pitching of freshman Angela Dailey to a 6-0 victory. Leach scored on an RBI single by Konner Patterson in the first, then MHS put the game on ice with five runs in the fourth. Konner Patterson and senior Kelsey Campbell each drove in a run, Raya scored on an error and Dailey helped her own cause with a two-run single.
Dailey threw a one-hit shutout, including three strikeouts. Including her five-hitter against Pleasant Ridge, she has a 0.00 earned run average through 14 innings.
"Angela is our future ace," Ballard Patterson said. "She doesn't try to do anything fancy and she's not going to try to blow you away. She's just going to hit her spots."
McLouth will travel Tuesday to Atchison for another doubleheader. First pitch is set for 4:30 p.m.