MHS

hosts annual track invitational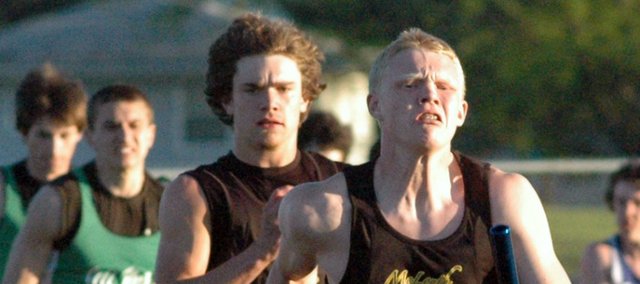 Photo Gallery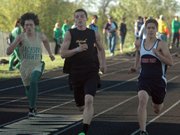 McLouth Invitational track meet
The McLouth High track and field team hosted its annual track invitational on Thursday.
McLouth — The Bulldog track and field team opened the 2012 season on its home turf Thursday when it welcomed 12 schools to the annual McLouth Invitational.
The MHS boys and girls squads both picked up the majority of their points in running events. The boys finished third with a team score of 82, while the girls finished sixth with a score of 34.
"For the first meet, the times and stuff we had were pretty decent," coach Gerard Aligo said. "Hopefully, as the season goes on, they'll get better."
Freshman Summer Cerny led the way for the girls, finishing third in the 100-meter and 300-meter hurdles. Sophomore Kayla Steffey earned the Bulldogs' only other individual medal, finishing second in the 400-meter dash. The girls 400 relay team also made some noise with a second-place finish.
In boys competition, MHS combined for eight medals. Three Bulldogs earned medals in two events. Sophomore Drew Cerny and Dakota Cop finished first and second in the 200-meter dash, respectively. Cerny's time of 23.95 second edged cop by .01 seconds. Cop also won the triple jump and Cerny took home silver in the 100-meter dash.
Senior Hunter Koch also earned two medals, taking third in the 110-meter and 300-meter hurdles.
"It's been a while since the guys have made some noise," Aligo said. "We're really excited about that for them. For the longest time, the girls were kind of in that situation. We're excited about what the guys are doing, but we just have to keep them humble."
Senior Marc Walbridge picked up the Bulldogs' seventh individual medal when he won the 1,600-meter run. The 400 relay team also earned gold.
Jefferson County North won the girls overall championship with a score of 133 points. Riverside and JC North finished tied for the boys title with 94 points each, but RHS won a coin toss to decide who took home the first-place trophy.
The 13 teams were the most McLouth has ever hosted for its home meet. Last year's event included just nine.
"The sad part about it is it's the opening meet for us and the only meet we'll be running at home," Aligo said. "It's usually a pretty good meet that other schools like to come to. We've got good facilities and everybody likes what we do."
The Bulldogs will be back in action Tuesday at Atchison County Community High School.
Girls overall results
JC North — 133
Riverside — 130
Christ Prep — 82
ACCHS — 45
KC Christian — 38
McLouth — 34
Maur Hill Academy — 30
Horton — 27
Oskaloosa — 23
Immaculata — 8
Jackson Heights — 7
Doniphan West — 2
Troy — 0
Boys overall results
Riverside — 94
JC North — 94
McLouth — 82
Christ Prep — 70
KC Christian — 44
Horton — 41
Oskaloosa — 35
ACCHS — 26
Immaculata — 21
Jackson Heights — 20
Doniphan West — 17
Maur Hill Academy — 13
Troy — 6