Chieftain track and field finds success at Bobcat Relays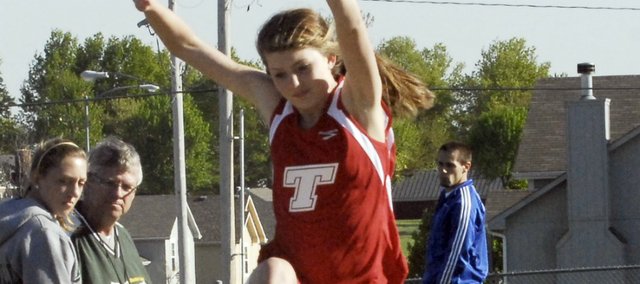 The Tonganoxie High track and field team made yet another addition to its trophy case Thursday at Basehor-Linwood's annual Bobcat Relays. The Chieftain girls won their second consecutive meet with a team score of 144, while the boys earned third place honors with a score of 107.
The girls edged out host school Basehor-Linwood and Piper, who tied for second with 143 points each. The boys finished 41 points behind meet champion Piper and five behind second-place finisher Perry-Lecompton.
Junior Jenny Whitledge paced the girls squad with three gold medals. She won the long jump with a leap of 16 feet, 6.75 inches, the high jump with a height of 5-4 and the 300-meter hurdles with a time of 49.18 seconds.
"(Whitledge) is an amazing athlete," girls coach Chris Weller said. "We've had some great weather, so she's had a chance to work at a lot of things this year compared to last. She's really doing well."
Fellow junior Hannah Kemp won the javelin for the second straight meet with a throw of 101 feet even.
Just like in the Lansing Invitational on April 3, the girls racked up several points in relay competition. The 4x100-meter relay team of Kemp, Whitledge, sophomore Haley Sparks and sophomore Jessica Rubio took third with a time of 53.12; the 4x400 team of Rubio, junior Sarah Ahart, sophomore Kara Banks and freshman Tressa Walker took second, crossing the finish line in 4:32.43; the 4x800 tandem of Walker, Ahart, Banks and sophomore Shelby Fatherly brought home gold with a time of 11:10.50.
The girls also took third in the sprint medley relay — an event not run at the season opener. Ahart, Rubio, Kemp and freshman Jackie Whitledge teamed up to finish in 2:04.30.
"They had an extra relay so we got to run some extra kids, but we're still trying to change (the relay teams) up a little bit," Weller said. "I've got several freshmen and sophomores that are just doing really well. They just work their tails off at practice and it's starting to show."
In boys action, senior Dallas Jacobs accounted for 26 total points. He won the shot put (44-3) and discus (139-8), then took third in the javelin (146-9). For the second straight meet, the Chieftain boys swept the top three spots in the discus. Senior Tyler Stockman finished second (137-4) and sophomore Clayton Neas took third (131).
THS also went 1-2-3 in the pole vault. Senior Cody Martin led the pack with a jump of 11 feet, followed by sophomore Andrew Behm and junior Seth Ahart. Behm and Ahart each reached a height of 10-06, but Behm took second because he hit the mark in fewer attempts.
"The guys on the discus and pole vault have great work ethic and a lot of ability," boys coach Scott Peavey said. "They just need to keep trying got improve their personal bests and the results will take care of themselves. We just have to continue to keep working."
The Chieftains will return to competition at 3:30 p.m. Friday when they host the Tonganoxie Invitational. The girls won last year's home meet, while the boys took third.
Peavey hopes the seniors can use their final home meet put an exclamation mark on their careers in red and white.
"I want them to have an opportunity to come out and compete at a high level on their home turf one more time," he said. "We want to go out there at full varsity strength."