Tonganoxie City Council agenda for April 9, 2012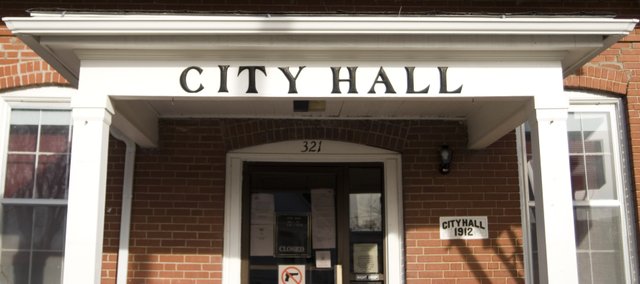 Open Regular Meeting – 7 p.m.
Pledge of Allegiance
Consent Agenda
a) Approval of Minutes –
Regular Meeting dated March 26, 2012

Special Meeting dated March 31, 2012

Special Meeting dated April 1, 2012
b) Consider Approval of Bills - Approve Pay Ordinance A-1680
c) Consider appropriation to Bingham's Landscaping for concrete and brick work for street repairs in the amount of $4,711.88.
d) Consider appropriation to K. C. Construction for slip lining of old sewer lines in the amount of $88,351.00. ( 2011 Capital Improvement Budget – Encumbrance)
e) Consider appropriation to Michael Kelly, Attorney at Law, for legal services to the City of Tonganoxie during the Month of March, 2012, in the amount of $2,047.50.
f) Consider appropriation to Leavenworth County Probation for second quarter probation services in the amount of $2,739.15.
g) Consider appropriation to Mike Yanez for first half of April City Administrator services reimbursement, minus four days, in the amount of $1,962.00.
Open Agenda
"Members of the public are welcome to use this time to comment about any matter relating to City business. The comments that are discussed under Open Agenda may or may not be acted upon by the Council during this meeting. Please wait to be recognized by the Mayor, then state your name and address and all comments are to be directed to the chair."


Old Business
a) Chief Brandau – Update on the Police Station
b) Lease Agreement – City of Tonganoxie and Grinter Farms for lease of farmland at the Industrial Park site.
c) Suburban Water Proposal – Industrial Park Site
d) City Planning Services RFQ
e) Planning Commission Action for Property at 415 N. Main Street, Arrow Auto, owner Anthony Brungardt
f) Safe Routes to School Grant Program
New Business
a) Biennial Bridge Inspections
b) Greystone Lift Station – Repairs to the electrical system for $3,930.00.
c) Economic Development Incentive – Consider adoption of Ordinance 1341 Adopting the Retail Attraction and Retention Incentive Program for City of Tonganoxie.
d) Police Chief Brandau – Request executive session for 20 minutes to discuss matters of non-elected personnel.
e) City Administrator Agenda
1)





f) City Attorney Agenda


1)



g) Mayor Agenda
1)

h) Council President Agenda
i) City Council Agenda
1)

Adjourn
Information & Communications (No Action Required)

a) Kansas City Board of Public Utilities 2011 Water Quality Report
b) February 2012 Residential Building Permit Statistics