NOW

&

THEN

: Mother recalls 1987 prom as daughter prepares for her final high school formal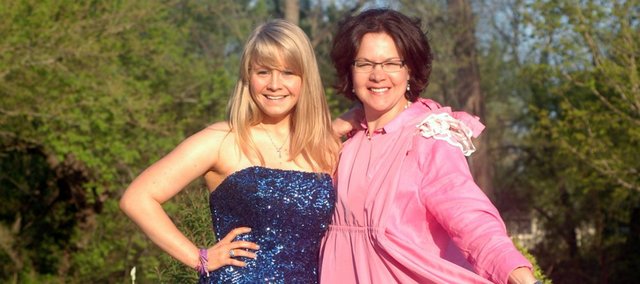 Big hair and a pink hoop-skirt dress.
Is it a scene from a 1980s teen movie?
No, Erica Clark is reminiscing about her prom.
"Hair and dresses were big," Clark said. "Tux shirts were ruffled."
Then known as Erica Young, she attended the Tonganoxie High School prom her senior year in 1987 with Chuck Clark, her high-school sweetheart and future husband.
She laughed recalling an unlikely combination — her hoop-skirt pink dress and Chuck's Firebird.
"You couldn't see out the passenger-side window," Erica said. "It was hilarious."
Twenty-five years later, Erica and Chuck's daughter, Taylor Clark, is preparing for her senior prom at THS.
Taylor recalls that when she was a little girl, her mom's prom dresses were stored next to her childhood toys.
"I wanted to play dress-up, but obviously they were way too big for me," Taylor said.
Fast-forward some years and Taylor and her classmates are preparing for a final prom. Nails will be done. Spray tans will be applied. Facials are scheduled.
It's a bit of a change from when her mother was gearing up for prom, according to Erica. Oh, there were the similarities: students head someplace for a nice meal and then journey to the Kansas Union ballroom for prom.
But going to a stylist for nails and hair wasn't standard in 1987, Erica said. And there was no after-prom party.
"It was special," Erica said. "It wasn't just like any other dance. Freshman couldn't go at all. If a sophomore was invited by a junior or senior, they needed special permission."
Erica added that the biggest difference is the availability of the after-prom party, which Erica said "was a really good thing."
The party is an effort to make it a drug-free evening for students following the dance. The post-prom gathering takes place during the early morning hours Sunday at the west campus gymnasium.
"I think it's fun, but I think it's so long," Taylor joked. "I burn through the activities. I'm like a 3-year-old eating a bunch of Pixy Stix."
Erica said she thought prom was a rare chance for high-school students to get gussied up. She said students entering the Greek system might dress up on occasion, but for seniors, it's one of the few final times the class is together.
"Real life is coming soon," she said. "It's nice to be fancy and pretty and enjoy your event."
Taylor has a similar sentiment.
"I really enjoy dressing up," Taylor said. "I don't feel as though people dress up enough anymore and go out on the town.
"It's an opportunity to see everyone dressed to impress, which doesn't happen in high school very often."
Taylor donned a blue dress her junior year and plans for the same this year, though this dress is a bit flashier with its many sequins.
Though the venue has changed on occasion — prom took place at Fort Leavenworth for a few years before returning to Lawrence in recent years — youths pick various restaurants for their pre-prom meals.
Erica recalled heading to the Skies restaurant at the Hyatt Regency in Kansas City, Mo., for a meal her senior year.
"You thought you were all that and a bag of chips," she said. "Those promsters stick out like sore thumbs, but everyone didn't make us feel like silly kids."
Of course, Skies is a revolving restaurant and Erica said she went to use the restroom during the meal and when she came back "the restaurant rotated enough I got lost."
It also was the first time the group had escargot, she said.
"It was quite the event," she said.
Taylor looks for more pre-prom pampering Saturday. She said preparations last year started about 2 p.m. for the 8:30 p.m. prom.
Regardless, she looks forward to her final prom and activities that await during the after-prom party.
"We need to do it up big because we're going to college and we're not going to see each other really quickly," Taylor said.