Tonganoxie High softball gets offensive in sweep of Turner
Chieftains rack up 38 runs in 10 innings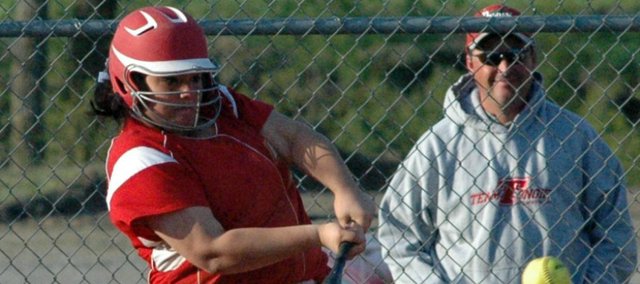 Photo Gallery
THS softball vs. Turner
The Chieftain softball team got back in the win column Monday, sweeping Turner in a home doubleheader. THS won by scores of 22-12 and 16-6.
On a night when pitching and defense were suspect, the Tonganoxie High softball team did more than enough at the plate.
The Chieftains exploded for 38 runs in a two-game sweep of Turner, beating the Golden Bears by scores of 22-12 and 16-6, respectively.
"It doesn't happen often, but there are some nights you need to score 30-plus runs," Tonganoxie coach Lee Matzeder said. "The defense came through absolutely when it needed to, and we had enough offense to support average defense tonight."
Sophomore pitcher Morgan Oroke allowed two Turner runners to score in the first inning of the opener, but the Chieftains (4-2) answered with four of their own in the home half of the frame. They iced the game one inning later, scoring 11 runs in the second.
Turner scored five runs each in the third and fifth innings, but Tonganoxie scored three in the third, one in the fourth and three in the fifth to put the mercy rule into effect after five innings.
Six Chieftain hitters recorded multi-hit games in the opener. Oroke, who picked up the win in the circle helped her own cause with a 4-for-5 performance at the plate. She drove in a team-high six runs and scored twice.
Oroke started the second game by retiring the first three Golden Bear hitters in order, and the Chieftain bats stayed hot. Sophomore Lainy Walker plated three with a bases-clearing double in the bottom of the first to give her squad an early lead.
Walker was a tough out all night, going a combined 6-for-7 with four doubles and five RBI between the two games.
After watching the deficit grow to 5-1 in the second, Turner reeled off four runs to tie the game midway through the third. However, Tonganoxie answered with two in the third and sixth in the fourth to take control for good. The Golden Bears scored once more in the fifth, but the game was called when the Chieftains scored three in the bottom of the inning.
Senior Amanda Holroyd led off the final inning with a solo home run to left field — her first of the season.
Oroke, who has started each of Tonganoxie's first six games, improved to 4-2 on the season. She enjoyed another solid game at the plate, going 3-for-4 and scoring four runs. Senior Maggie Gripka also made some noise in the nightcap, driving in four runs in a 2-for-3 performance.
It's been an up-and-down season thus far for Tonganoxie. Prior to Monday's victories, the Chieftains opened the season March 26 with a two-game sweep of Bishop Ward, scoring 30 runs in just 17 innings. Nearly two weeks later, though, they managed just two runs in two games against Mill Valley, falling 16-0 and 13-2.
Matzeder's squad will square off against one of the state's top Class 4A teams Thursday when it travels to Kaw Valley League rival Basehor-Linwood.
"Basehor is always one of the best teams in the league," Matzeder said. "I look for that to be a tough, Mill Valley kind of game."
Game 1
Turner 205 05X X — 12
Tonganoxie 4(11)3 13X X — 22
Leading hitters: Kailan Kuzmic 3-4, 2B, 5 runs; Makayla Leslie 2-3, 2 RBI, 4 runs; Amanda Holroyd 2-3, 2B, 2 RBI, 3 runs; Morgan Oroke 4-5, 6 RBI, 2 runs; Lainey Walker 2-3, 2 2B, RBI, run; Caly Ingle-Maxwell 2-4, 2B, 2 RBI, 2 runs.
Game 2
Turner 014 01X X — 6
Tonganoxie 322 63X X — 16
Leading hitters: Haley Smith 2-3; Amanda Holroyd 1-2, HR, RBI, 3 runs; Morgan Oroke 3-4, 4 runs; Lainey Walker 4-4, 2 2B, 4 RBI, 3 runs; Caly Ingle-Maxwell 2-4, 2B, 4 RBI, run; Maggie Gripka 2-3, 4 RBI, 2 runs.