Troyer introduced as Tonganoxie High football coach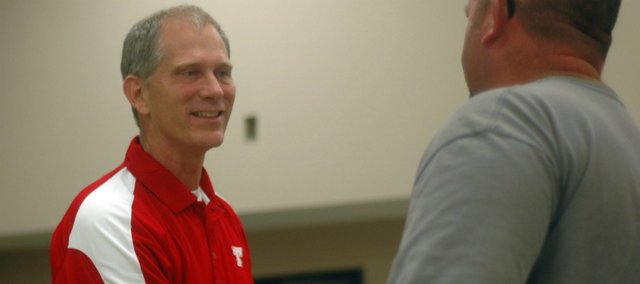 Character, pride, passion.
Those were the three words Tonganoxie High athletics director Brandon Parker used to describe the Chieftains' newly appointed football coach, Al Troyer. Troyer, a native of Hutchinson, was officially handed the reins of the THS program after being approved by the school board Monday night. He was one of 21 candidates interviewed for the position.
"(Troyer) stood out in both interviews as the best educator, the best football coach and the best leader of young men," Parker said at a community meet-and-greet Monday in the THS Chieftain Room. "I'm so thrilled for these football players that they're going to get this opportunity."
Troyer comes to Tonganoxie after four seasons as the head football coach at Larned High School. Prior to his time with the Indians, he coached at the middle school and high school levels in the Richardson (Texas) Independent School District from 1984 to 2006.
A former track and field coach at Wichita State, Troyer began his high school football coaching career as an offensive line coach at Class 5A Lake Highlands High School in Dallas. He went on to coach several other offensive positions and eventually worked his way up to the title of offensive coordinator. He returned to the Sunflower State in 2006 and became the LHS head football coach in 2008. The Indians went a combined 2-34 in the last four seasons.
"We moved back to refurbish the farmhouse my wife grew up in," Troyer said. "I started teaching in Larned and while I was teaching there, I was asked to coach the football team. I would give anything for those kids to be successful."
Troyer interviewed for the Chieftain coaching job on March 23 and was offered the position soon thereafter. Since then, he has had the opportunity to meet school administrators, other THS coaches and, perhaps most importantly, the returning members of the Chieftain football team.
"I met the team (Friday) morning, and it was awesome," he said. "They were really receptive. I told them 'this is a situation that we're in together.' We want to be successful, and we're going to work hard through the summertime.
"I know they've had some strong teams in the past. I've seen every game they played last year (on film), and I think they can be successful."
Troyer inherits a team that went 1-8 last season under interim head coach Matt Bond. Former head coach Mark Elston announced his resignation two days before the start of the 2011 season. Elston had been suspended following an incident with a player during practice.
Troyer said Bond, as well as 2011 assistant coaches Scott Peavey and Brad Shelton, will be retained. There will be openings for additional assistants. One potential candidate is Troyer's son, Preston, who served as an assistant during Troyer's tenure in Larned.
Before assuming his coaching duties in Tonganoxie, Troyer will finish out the 2012 season as the head track and field coach at LHS. He assured players and their parents at Monday's gathering that he'll be back in town and ready to get to work by the end of May. The Chieftains' summer football camp is tentatively set for early June.
"We're going to look at doing the camp and trying to instill a new offense," Troyer said. "We'll try to go to several 7-on-7 tournaments to get them used to the offense, then just try to build on it throughout the summer."
While addressing the crowd at Monday's meet-and-greet, Troyer expressed his excitement to begin a new era with the Chieftain football program. Parker echoed those thoughts early and often, and labeled Troyer as a hard-working coach who would do anything to see his players succeed.
"High school football isn't built on one man; it's built on a community," Parker said. "It takes an amazing leader to make that happen, and we have found that in coach Troyer."