Bulldog softball sweeps Atchison on road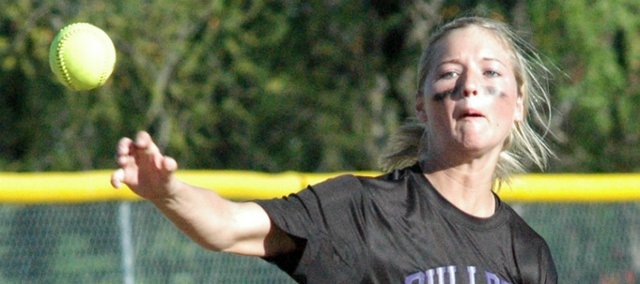 Easter weekend did nothing to slow down the McLouth High softball team, which improved to 7-1 Monday with a two-game sweep at Atchison. The Bulldogs pushed their win streak to three games with 11-4 and 2-0 victories.
"We looked like a championship team tonight," coach Ballard Patterson said. "We were very good defensively and sharp offensively."
MHS senior Kendra Leach squared off against AHS ace Avery Enzbrenner in the opener, and Leach's squad gave her an early cushion. The Bulldogs jumped out to a 5-1 lead after two innings and stayed in front the rest of the way.
After watching the margin grow to 7-1, Atchison got within three in the fifth, but Patterson's squad iced the win with four runs in the top of the seventh.
Leach (4-1) got the win, striking out nine and allowing just two earned runs in seven innings. She and fellow senior Morgan Drinnon enjoyed solid performances at the plate, as each went 4-for-5.
"We knew we were going to struggle to get runs against Enzbrenner, but we decided to stay with our normal set," Patterson said. "It ended up working out good for us."
The Bulldogs relied on their pitching defense in the nightcap, in which freshman Angela Dailey took to the circle. MHS scored one run each in the fourth and fifth, but that's all it needed to cap off the sweep.
Drinnon, who went 2-for-3 in the game, led off the fourth with a base hit and came around to score on an RBI single by sophomore Konner Patterson. One inning later, Drinnon drove in Leach on an RBI single of her own.
Just like in her first two starts, Dailey (3-0) threw seven scoreless innings. She has allowed just 11 hits in 21 innings this season.
"What Angela does is she hits her spots. It's all about a system," Patterson said. "She goes in and doesn't get them with speed. For the most part, she's going to get you a ground ball or fly ball."
The Bulldogs will be back in action at 4:30 p.m. on Thursday when they host Riverside for a doubleheader.
Game 1
MHS 320 110 4 — 11
AHS 100 030 0 — 4
Leading hitters: Kendra Leach 4-5; Morgan Drinnon 4-5; Taylor Pope 3-4.
Game 2
MHS 000 110 0 — 2
AHS 000 000 0 — 0
Leading hitters: Morgan Drinnon 2-3, RBI; Konner Patterson RBI.