Five questions: Rabies on rise?
Spread of disesase can be prevented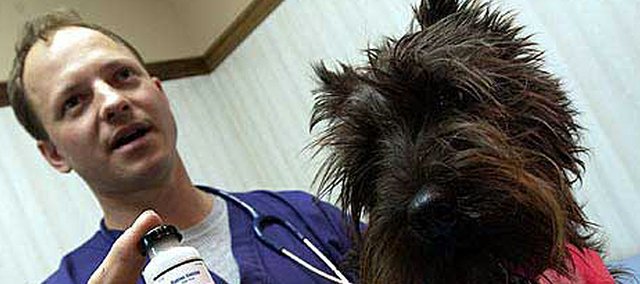 So far this year, 13 animals in Kansas have tested positive for rabies compared to only four at this time last year. The Kansas Department of Health and Environment and its state public health veterinarian, Ingrid Garrison, answer questions about rabies and prevention.
Q: What animals tested positive?
A: There were four skunks, two bats, two horses, two cows, one cat, one coyote and one raccoon. None of the domestic animals were vaccinated against rabies.
Q: What animals should be vaccinated?
A: Vaccines are available for dogs, cats, ferrets, horses, cattle and sheep. Animals need periodic boosters to maintain proper protection. Although vaccination of all cattle and sheep is not practical, vaccination of valuable breeding stock and show animals is encouraged.
Q: Can humans catch rabies?
A: Yes, but there are ways to avoid risk. Do not handle, feed or bring wild animals into your home. Do not try to nurse sick wild animals back to health. Call animal control or an animal rescue agency. Teach children never to handle unfamiliar wild or domestic animals, even if they appear friendly.
Q: What if I am bitten by an animal?
A: Seek medical attention and immediately report the bite to your local public health department or animal control department. If your pet is bitten, contact your veterinarian or local health department for advice. If you wake up in a room with a bat present, even if there is no evidence of a bite or scratch, seek medical attention.
Q: Where can I learn more about rabies?
A: Contact your veterinarian, local health department or the Kansas Department of Health and Environment at 877-427-7317.