Jackson's journey: Basehor second-grader back in action three months after brain surgery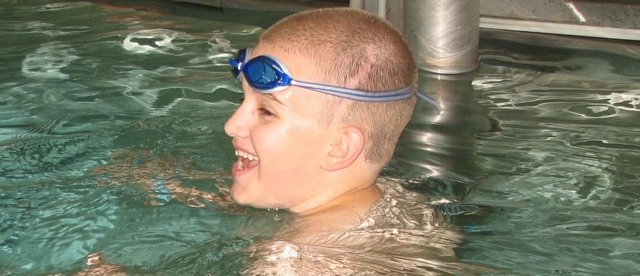 Fund-raisers for Jackson
• A golf tournament fund-raiser is set for Friday, June 1, to help Jackson Oberndorfer's family pay for medical bills and other expenses.
The tournament, "Take a Swing for Jackson O," will begin at 1 p.m. June 1 at Dub's Dread Golf Club, 12601 Hollingsworth Road in Kansas City, Kan.
Four-player teams can sign up for $85 per player, and varying levels of sponsorships can be purchased for amounts ranging from $100 to $3,000.
A brochure with more information and a sign-up form is available for download below. The registration deadline is May 25, and sponsors should sign up by May 15.
People can also contact April Angelotti to register or get more information by calling (816)721-3020 or sending email to aangelotti21@aol.com.
• Moyamoya awareness bracelets are for sale at two locations, also to raise money for the Oberndorfers. Bracelets are available for $5 each at The Medicine Store, 15415 Pinehurst Drive in Basehor, and Smith Chiropractic, Inc., 100 E. Kansas Ave. in Lansing.
Related document
Jackson Oberndorfer holds his outstretched hand above his head as he sits in a chair in his family's living room, twisting his torso as he shows you some basketball moves he's been working on.
In recent weeks he's been practicing by himself on his backyard court, and his words pour out between quick breaths as he tells you about it.
"I'm going to go up and fake-shoot, pretend to do a one-handed dunk and pass to someone else — I'm really getting to do better at that," says Jackson, 7, a second-grader at Basehor Elementary School.
This week, Jackson should finally be able to join his friends at recess and in P.E. class for the first time since the seven-hour brain surgery he underwent in Boston three months ago today, because of a disease with a funny name that he and his family had never heard of a month before.
That disease, called moyamoya, caused Jackson to have two strokes and who-knows-how-many transient ischemic attacks — "mini-strokes" that last for an hour or two — and for a time this past winter kept his parents constantly watching to see if the right side of his face was drooping, if he couldn't clench his fingers on his right hand or if words would fail to come out of his mouth.
During the six weeks before his surgery Jan. 12, it felt to Jackson and his parents like it couldn't come soon enough. The scary prospect of doctors cutting into his head didn't matter much if it meant the end of these attacks that sapped his strength, gave him nightly headaches and sometimes caused his right leg to buckle, sending him tumbling to the ground.
"We told him, 'The picture of your brain showed you were really, really smart, but there's just not enough blood there,' " said Sarah Oberndorfer, Jackson's mother, " 'so we're going to get surgery to get more blood. And that way, you won't fall anymore.' "
And though it's a long road back to becoming the same boy he was a year ago, Jackson is indeed no longer falling anymore.
'Things were changing'
It's tough to say when exactly this story starts, Sarah Oberndorfer says.
A rough guess is one day last summer, a few months after the Oberndorfers moved to Basehor from Norman, Okla., in spring 2011. Jackson's father, Justin, who grew up in Basehor, had taken a job teaching business classes at Basehor-Linwood High School, where he's also an assistant basketball coach.
That day Jackson fell out of the family's van onto the concrete below as they prepared to go to their neighborhood pool. He told his mom that his right leg felt numb, though she thought that likely meant it had just fallen asleep.
Then, in the fall, when Jackson began second grade at Basehor Elementary School, things seemed different. It took him longer to finish assignments, his handwriting grew larger and he had to get glasses after his vision quickly grew worse. During football season, he didn't run as well as he had before.
"You couldn't really pinpoint anything, exactly," Sarah said. "It's just, things were changing."
Jackson said he just thought second grade was harder than first grade — "big time."
Then, on Nov. 30, Jackson's teacher called on him after he raised his hand during a class discussion. He knew what he wanted to say, he says now, but it wouldn't come out.
"I was going to talk. I couldn't say anything," Jackson said. "I was really wanting to, but it just didn't come out right."
After he was silent for a few seconds, his teacher, Heather Osterhaus, went ahead and called on someone else. When he raised his hand again soon afterward, she called on him again. This time his mouth moved, but what came out was unrecognizable gibberish.
"He just didn't seem right," Osterhaus said.
With his classmates' eyes on him, Jackson began to cry, he said. Osterhaus took him into another room to talk to him, and he said his tongue "felt thick," she said. On the way back into the classroom, he tripped and fell, and at lunch later, he struggled to open containers of applesauce and pudding.
After lunch, Jackson went to the school nurse, who called his parents. When they picked him up, he told them his right leg felt weak, and he couldn't get his right hand "to work right," Justin said.
They took him to an emergency room, where doctors weren't sure what was going on, Jackson's parents said. Though his symptoms were stroke-like, and Jackson mentioned feeling similar on the day he fell out of the van during the summer, the ER staff wondered aloud if he was diabetic, if he was having seizures, migraine headaches, or just high levels of stress or anxiety.
"They said, 'Kids just don't have strokes,' " Sarah said.
After an MRI about two weeks later, staffers said they'd let the family know about the results within 48 hours. But before they got back home to Basehor from Children's Mercy Hospital in Kansas City, Mo., they got the call.
"We think it's a disease called moyamoya," a doctor said.
The doctor said scans showed Jackson had had two strokes. Moyamoya, he said, caused the blood vessels in the front of Jackson's brain to narrow dangerously, and two major arteries leading to his brain were closed off completely. The family would need to meet with a neurosurgeon as soon as possible.
The next day, when the family talked to another neurologist at Children's Mercy, he said Jackson's was only the second case of moyamoya the hospital had encountered in about two decades.
"You go to ask a doctor a question, and they pretty much say, 'It's just a rare disease,' " Sarah said. " 'We don't know much about it.' "
'I'll be faster again?'
About a month later, on Jan. 12, the family was at Children's Hospital Boston, one of two places in the United States where doctors perform surgery to treat moyamoya.
Justin, Sarah and infant daughter Naomi had made the trip along with Jackson, while his sisters Sophie, 6, and Adalynn, 4, had stayed behind with an aunt.
Jackson's surgery would likely last about nine hours, they'd been told, with two surgeons operating simultaneously on both sides of his head, taking arteries from his scalp to place on top of his brain, where they would branch out over time to provide the blood flow that was lacking.
The date could not come soon enough for the family, Sarah Oberndorfer said. Jackson's nightly headaches grew more severe, he was sick to his stomach constantly, and his parents stayed up with him all night a few times when he was at his worst, making sure he did not have a brain hemorrhage.
Jackson, who'd been unable to run, jump or do anything but sit or lie down during the past few weeks, was excited to be fixed, Sarah said.
"He was saying, 'I'll be faster again?' " Sarah said. "We said, 'Yeah.' "
Justin spent the night with his son at the hospital the night before the procedure, and hospital staff woke them at 6 a.m. to get ready.
"He walked in brave, man," Justin said. "I think we were definitely more of a wreck that he was, going in."
During and after his surgery — which lasted seven hours — doctors told the family everything had gone smoothly, something Sarah and Justin credit to their faith in God and to perhaps hundreds of people who'd been praying for Jackson as his story circulated online.
Justin recalled that, shortly after the surgery was finished and he and Sarah came in to see their son, a nurse with a thick Boston accent asked Jackson if he'd be cheering for the New England Patriots during their NFL playoff game against the Denver Broncos two days later.
He responded with an emphatic "no," Justin said, because he was a fan of then-Broncos quarterback Tim Tebow. Before the surgery, Jackson's speech had frequently been slow and "churning," Justin said, but words flowed quickly from his mouth as he talked about Tebow. Tears came to Justin's eyes as Jackson reeled off Tebow's record as a starting quarterback and his passing yardage totals from his last few games.
When the family returned to Basehor after 11 days in Boston, Jackson had to remain lying and sitting down at home, as the new arteries in his brain formed new networks of vessels. He continued to have occasional "mini-strokes," when his face would sag and he would struggle to move the right side of his body. He did schoolwork from home.
"I would be really lucky if I had any of my friends come over," Jackson said, "because I would really have nothing else to do."
Back to almost-normal
Jackson returned to school on Valentine's Day for his class party, and he began attending for a few hours each day after that. In mid-March, he returned to school full-time, and this week he could be cleared to return to recess and P.E.
His physical strength has returned, Sarah said, but he's had to undergo physical and occupational therapy to help restore coordination, as well as private swimming lessons he's now taking three times per week. The changes in his brain have resulted in moodiness and a short attention span, as well, she said.
The family has, of course, incurred costs with the surgery, the trip and 11-day stay in Boston, and countless doctor's visits and therapy sessions.
But the community and the Basehor-Linwood school district have sprung to help, Sarah said. Classmates at BES pulled together about $900 with a hat day fund-raiser just days after hearing about Jackson's surgery in January, and other schools throughout the district have chipped in, as well. Strangers dropped by to bring them dinner each night for about two weeks after they returned from Boston.
The help has been overwhelming, Sarah says.
"Most of the people, we didn't even know," Sarah said. "We just moved here a year ago."
Now, Jackson smiles as he recalls seeing sharks at an aquarium in Boston after his surgery, the hours he spent playing video games with his dad while he was stuck at home, and watching the BLHS boys basketball team win its state championship in Salina in March.
In the family's home one day last week, as his parents answered questions about their experience over the last few months, Jackson was focused instead on more typical 7-year-old thoughts. He talked of adding action-movie special effects to videos using an iPhone app. He described new basketball moves he was developing as he prepared to head back to recess soon. And he asked his parents when they would leave for a birthday party he was heading to that evening.
"I do not want to miss one second of the party," he said.