Five questions: Plant a tree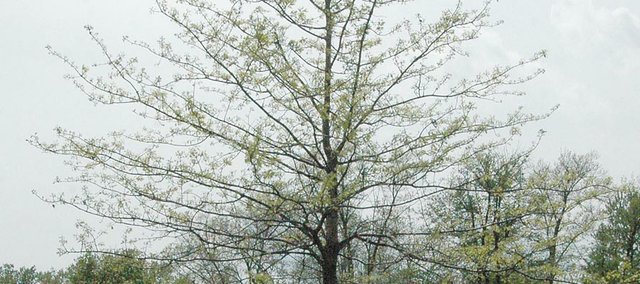 Arbor Day in Kansas is celebrated on the first Friday in April. To answer a few questions about the holiday, we visited arborday.org.
Q: Who started Arbor Day?
A: Pioneer J. Sterling Morton moved in 1854 from Detroit to the Nebraska Territory. An editor at a Nebraska newspaper, he spread agricultural information and his enthusiasm for trees through that medium.
Q: When was the first Arbor Day observed?
A: The holiday first was observed April 10, 1874, when it was estimated that 1 million trees were planted in Nebraska on that day. It was named a legal holiday in Nebraska in 1885. April 22, Morton's birthday, later was selected as the date for its observance. Today, Arbor Day varies from state to state depending on prime planting season. Kansas and much of the region observes the last Friday in April.
Q: I'm interested in receiving trees to plant. How can I obtain them?
A: More information about membership can be found at arborday.org.
Q: There's a tree in my community and I'm unsure what kind it is. Do you have any resources?
A: Also on the Arbor Day site is a tree identification page: arborday.org/trees/index-identification.cfm.
Q: Arbor Day originated in Nebraska City, Neb. Are there any activities or attractions celebrating it?
A: Activities take place at Arbor Day Farm and lodging available at nearby Lied Lodge. For more information, contact the Arbor Day Farm Tree Adventure at 402-873-8717 and the Lied Lodge at 800-546-5433.