HENS

ON

PARADE

: Pets provide local attraction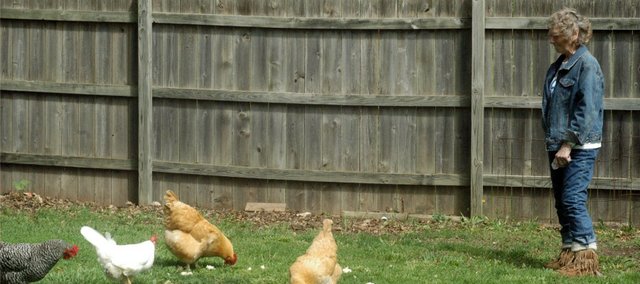 Local recipes
Winnie's "Impossible" Coconut Pie
4 eggs
1 1/2 cups sugar
3/4 stick of oleo or butter
1 (4 oz.) can coconut
1/2 cup self-rising flour
1 teaspoon vanilla
2 cups milk
Cream butter and sugar, then add eggs, flour, milk and coconut. Pour into a deep pie plate (10 inches), greased with oleo. Bake on middle shelf at 350 degrees for 45 minutes. Check at 40 minutes (Makes its own crust).
Working woman's city-hen quiche
1 unbaked pie shell (any brand)
1/4 pound grated swiss cheese/or soy cheese (about 1 cup)
3/4 cup chopped frozen spinach, thawed and squeezed dry
3 Tablespoons crisp, crumbled bacon
5-7eggs (depending on size)
1 cups milk or almond/rice milk
2 teaspoons onion powder
2 teaspoons garlic powder
1/2 teaspoon black pepper (or eliminate this if you use pepper bacon)
Preheat oven to 350 degrees. In mixing bowl beat eggs, stir in milk, then add spices and cheese. Add the spinach and bacon last. Pour mixture into pie shell. Bake for one hour or until knife inserted in center comes out clean.
Winnie Groshong pampers Paris and Pippa as they prance around her yard. They even have a poolside view — her home isn't far from Tonganoxie Water Park.
An American socialite and sister to British royalty?
No, just two of seven chickens the Tonganoxie resident tends in her back yard.
When she was a child, Groshong's primary farm chore was to take care of the family's chickens.
She's continued to look after them as an adult.
"I always liked being around the chickens. They're nonjudgmental." Groshong said. "They're mellow and they all have a personality. They're just kind of fun to be around."
There are other chickens in the family, including Mandy and Sandy. Others are named after country western singers, including Reba, Loretta and Tammy.
The array of names complements the various breeds: Buff Orpington, Barred Plymouth Rock and Wyandotte. The Wyandotte chicken, incidentally, is named Wyandotte.
Gorshong's daughter, Mindi Lux, lives on a farm near McLouth. Some of her family's chickens now call Groshong's yard home.
"It's a nursing home for chickens," Lux joked.
"Assisted living," Groshong chimed in.
A couple of the chickens now under Groshong's watchful eye once were part of Mike Ryan and Loralee Stevens' flock. The couple raise nine Buff Orpington chickens at their home a block from Tonganoxie Elementary School.
The couple started raising chickens a year ago as a way to be more self-sufficient. They also have a garden and plan to create a rain barrel.
Groshong's coop is in the corner of her fenced backyard, but Ryan and Stevens have a mobile coop on their lot that they, along with their children Simon McKinney Stevens and Aidan Ryan, move around their yard every day or two. The chickens feast on grass, but their diet also includes chicken feed and kitchen scraps.
Simon said the chickens enjoy bread and potato skins, as well as tomatoes and apples.
"They don't like oranges or lemons," Simon said.
Being a block from the school, the chickens have become a favorite of schoolchildren.
"It's fun to watch the school kids come by before and after school and check out the hens," Loralee said. "Which I think has made them really tame."
Her husband said the chickens have become a conversation piece, with some questioning whether the family can have the chickens within city limits.
"I've assured them I've read the ordinance many times and we're well within the bounds," Ryan said.