Chieftain softball drops two games vs. Piper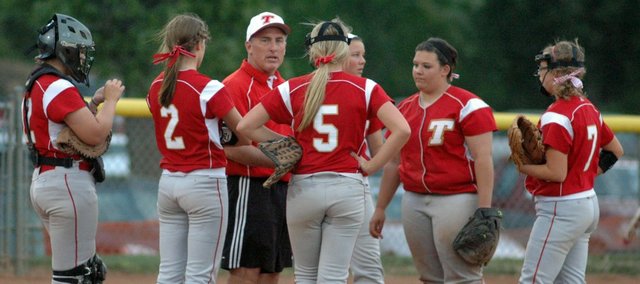 Photo Gallery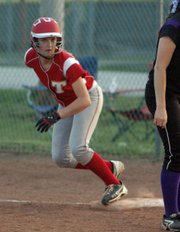 THS softball vs. Piper
The Tonganoxie High softball team suffered back-to-back losses Wednesday against Piper, losing by 12-3 and 9-7 margins.
The roller coaster season continues for the Tonganoxie High softball team.
When the Chieftains entered Wednesday's doubleheader against Piper, did so following a two-game sweep of Turner. However, they watched the momentum quickly slip away as the Pirates won both games by scores of 12-3 and 9-7.
"They just stroked the ball," coach Lee Matzeder said. "I think our defense was decent as far as errors go, but it was not knowing where runners were. Our heads were kind of in the sand."
THS (4-4) struggled to get going offensively in the first game, and Piper took advantage. The Pirates scored one run each in the first and third inning and extended their advantage to 8-0 before the Chieftains got a runner across the plate.
Sophomore Marissa Martin ended the scoring drought when she drove in senior Maggie Gripka in the sixth. Piper erased any thoughts of a THS comeback when it added four more runs in the top of the seventh. Senior Amanda Holroyd belted a two-run home run in the home half of the inning, but that's as close as the Chieftains got.
"I don't know if we ever did get in a rhythm," Matzeder said. "We were hitting the ball, but they were pop flies. Just not smart hitting."
Holroyd had the team's only multi-hit game, going 2-for-4.
Piper stayed hot at the plate in the second game, scoring three runs in the first inning. Sophomore Lainy Walker cut the lead to 3-1 with an RBI single in the bottom of the frame, but the Pirates retook control with a pair of runs in the second.
Defensive mishaps by the Chieftains allowed Piper to push its lead to 9-2 in the top of the fifth.
"We dug ourselves a hole with some not smart defense," Matzeder said. "You can't give teams like Piper an extra at-bat. We can't afford to do that."
Looking to make a late run, the Chieftains scored two in the fifth and three in the seventh, but couldn't cap off the comeback attempt. Senior Haley Smith led the offensive charge in the nightcap, going 3-for-4 with a double and three runs batted in.
Next up for Matzeder's team is a trip Tuesday to Pleasant Ridge for a pair of games. First pitch is set for 4:30 p.m.
Game 1
PHS 101 411 4 — 12
THS 000 001 2 — 3
Leading hitters: Amanda Holroyd 2-4, HR, 2 RBI; Marissa Martin 1-2, 2B, RBI.
Game 2
PHS 320 220 0 — 9
THS 101 020 3 — 7
Leading hitters: Haley Smith 3-4, 2B, 3 RBI; Lainy Walker 2-4, 2 RBI.