Second half dooms
THS

soccer in loss to Panthers
Photo Gallery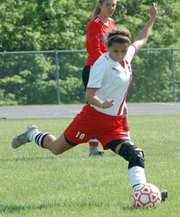 THS girls soccer vs. KC Christian
The Chieftain girls soccer team dropped a 3-1 decision Wednesday against Kansas City Christian.
When the Tonganoxie High girls soccer team welcomed Kansas City Christian to town on Wednesday, it did so for its third game in three days. However, according to coach Justin Seever, that may have been for the best.
THS looked to keep the momentum in its favor following Tuesday's 7-0 drubbing of Bishop Ward, but dropped a 3-1 decision to the Panthers.
"I feel like we wouldn't have had a good practice yesterday. We were a little nervous about playing (Bishop Ward), but if we would have had a day to think about being nervous, I feel like it would show."
Neither team could establish any offensive control until midway through the first half, when KCC cashed in on a scoring opportunity. Maddie Brown broke free down the middle of the field and her shot attempt slipped through the hands of THS sophomore goalkeeper Emma Stilgenbauer with 18:33 left until halftime.
The Chieftains (2-7-1) answered almost immediately, though, as junior Molly Welsh found a lane to the net and floated a shot over Panther goalie Kathryn McGregor with 17:12 remaining.
"They were letting (Welsh) get free and she found a little channel, so we popped a ball to her and she had a good finish," Seever said. "I think the goalie wasn't expecting it. It was a good shot into the wind."
KCC nearly regained the lead just before halftime, but a shot attempt by Christine Kucera ricocheted off the top bar with 1:20 left on the clock. Neither team threatened again before intermission.
Kucera got another chance to score in the second half. She cashed in on the opportunity, giving the Panthers a 2-1 advantage with 29:31 remaining. THS failed to answer, and KCC's Michayla Kramer iced the game with a goal of her own with 5:19 left.
The Chieftains won't return to the field until they host Spring Hill on Monday. The Broncos handed Seever's squad a 4-0 loss on March 29.
"We're going to have a four-day break, so I'm not really sure what to expect from us come Monday," Seever said. "But we've got a team we've already seen before, so I feel like we should be up for it."
Monday's action is set for 4 p.m.
First half scoring
18:33 — Maddie Brown (KC Christian)
17:12 — Molly Welsh (Tonganoxie)
Second half scoring
29:31 — Christine Kucera (KC Christian)
5:19 — Michayla Kramer (KC Christian)