Basehor-Linwood High School musicians qualify for state festival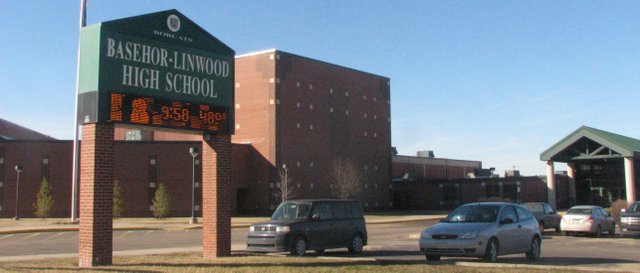 After 107 Basehor-Linwood High School students competed in regional music festivals, 68 have qualified for state competitions, including several who qualified in more than one event.
The state large-group music festival was Wednesday in Gardner, and the state solo and ensemble festival is April 28 in Andover.
Solo state qualifiers are Alex Bright, clarinet; Russell Clark, voice and violin; Rebecca Carroll, voice; Ben Forshee, trumpet; Heather Francis, flute; Sarah Hopkins, flute; Danae Leppke, voice; Jami Lynne, voice; Cheyenne Morris, voice; Jessica Morris, flute; Brooke Schler, cello; and Alexis Tate, cello.
Ensembles that qualified for state are:
• Thursday Night Live: Talia Armstrong, Marcas Box, Russell Clark, Bridget Davis, Caroline Dickinson, Bret Fritz, Nick Genz, Shelby Gorham, Danae Leppke, Jami Lynne, Cheyenne Morris, Hayden Morris, Courtney Payne, Alexander Pedroza, Skylar Ross, Abraham Ruffcorn, Tylar Sams, Jordanne Tillman, Mark Vitt and Hayley Webb.
• Girls Green Ensemble: Cassie Beattie, Rebecca Borders, Brienna Bright, Bridget Davis, Samantha Espinoza, Chloe Freemire, Jenna Hill, Nicole Kneebone, Kristin Mance, Hayley Newlin, Emily Powell, Sadi Robinson, Kaylene Skidmore, Jordanne Tillman and Shonna Walcott.
• Girls Gold Ensemble: Rebecca Carroll, Kelsey Coleman, Natalie Engler, Lindsay Laney, Mi-Ji Lee, Keirsten Lindelof, Hayley Newlin, Emily Powell, Reagan Prescott, Lyndon Seitter, Kaylene Skidmore, Emily Vitt, LeeAnn Walcott and Jenny Whipple.
• Mixed Girls Ensemble: Rebecca Borders, Alex Bright, Taylor Cameron, Rachael Cook, Caroline Dickinson, Heather Francis, Shelby Gorham, Jenna Hill, Sarah Hopkins, Courtney Leive, Danae Leppke, Jami Lynne, Kristin Mance, Cheyenne Morris, Jessica Morris, Courtney Payne, Victoria Smith, Molly Tinberg and Hayley Webb.
• Clarinet Choir: Alex Bright, Naqari Harris, Morgan Lawrence, Danae Leppke, Reece McDowell, Cheyenne Morris, Nia Sitzman, Ariel Smith and Tabor York.
• Senior String Quartet: Russell Clark, Caroline Dickinson, Garrett Kahle and Alexis Tate.
• Girls String Quartet: Caroline Dickinson, Danae Leppke, Haley Stallbaumer and Alexis Tate.
• Bobcat Quartet (strings): Rachael Savner, Daniel Tady, Emily Vitt and Makayla Weiser.
• Bobcat Piano Trio (strings): Heather Francis, Sarah Jacobs and Brooke Schler.