Chieftain soccer falters in second half, falls to Spring Hill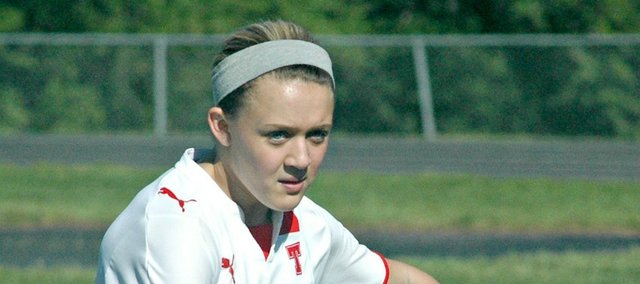 For the second time this season, Spring Hill and Tonganoxie met on the soccer field. For the second time this season, the Broncos walked away with a 4-0 victory.
Late mistakes doomed the Chieftains (2-8-1), who allowed all four Spring Hill goals in the last 33:56 of Monday's home loss.
"We played better with the sun in our face (in the first half)," coach Justin Seever said. "I think they figured out how to pick us apart a little bit, but we were doing fine until that first goal."
The first half unfolded into a back-and-forth affair from the opening kick, as both teams struggled to keep the ball on their opponent's side of the field. THS got a chance to take the lead just before the break when junior Molly Welsh broke free down the left side of the field, but her shot attempt clanked off the post with 1:15 left on the clock.
Neither squad got another shot attempt before the end of the period, leaving the score tied at 0-0 at the break.
Spring Hill broke through less than 10 minutes into the second half when Sydney Cluck beat the defense down the middle of the field. Her shot bounced off the hands of Chieftain sophomore goalkeeper Emma Stilgenbauer and into the net, giving the Broncos a 1-0 advantage with 33:56 remaining.
Things got worse for THS less than 90 second later, as Spring Hill's Kaitlyn Pritchard got open and doubled her team's lead with 32:34 left in the game.
"That one took the wind out of our sails completely," Seever said. "We have a tendency to give up a goal, then quit talking. When we quit talking, we start losing runners."
Cluck and Pritchard each scored once more for the final margin of victory. Cluck also scored twice in the Broncos' home win over the Chieftains on March 29.
Welsh got another chance to cash in — this time on a penalty kick with 7:20 remaining — but Bronco goalkeeper Gwen Getz made a diving stop to keep the shutout intact.
THS will return to the field Friday when it welcomes Baldwin to town. The Bulldogs handed the Chieftains a 2-1 defeat on April 16, but Seever is hopeful his squad can reverse its fortunes in Friday's rematch.
"(Baldwin) is a team that's on the same level as us," he said. "It should be a 50-50 match with what happens. I'd like to say we can go get a good result, especially on our home field."
Varsity action is set for 4 p.m.
First half scoring
None
Second half scoring
33:56 — Sydney Cluck (Spring Hill)
32:34 — Kaitlyn Pritchard (Spring Hill)
20:39 — Cluck
5:36 — Pritchard