Local youth participate in wrestling clinic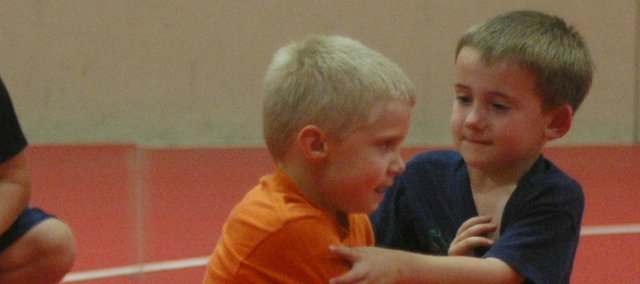 Photo Gallery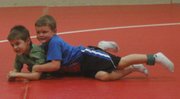 Tonganoxie youth wrestling clinic
Approximately 50 kids gathered last week at the Tonganoxie Elementary School gym for a four-day youth wrestling clinic.
The 2011-12 wrestling season officially came to an end in February, but last week marked an opportunity for several local youth to return to the mat.
Tonganoxie High School head coach Jeremy Goebel and several assistant coaches hosted their annual four-day wrestling clinic last Monday through Thursday in the Tonganoxie Elementary School Gymnasium. Roughly 50 kids ranging from kindergarten to fourth grade showed up for the event.
"We just went over basic fundamentals," Goebel said. "We played some games and did some live wrestling."
Goebel, the head coach of the high school and middle school programs, said this year's group included several kids who already wrestle regularly, as well as some who had never set foot on the mat. Regardless of experience, though, Goebel saw plenty of improvement from everyone throughout the course of the clinic.
"For some of the kids, you don't know anything at the beginning of the first day," he said. "But after day four, your bar has been raised so high. It's cool for the kids to have that success. The whole goal of doing it is to have fun."
In addition to teaching kids basic terminology, fundamentals and rules of the sport, Goebel said coaches use the clinic as an opportunity to generate interest in wrestling at an early age.
"Every year we do this, if we can get one kid to come to our kids club, that benefits us," he said. "It gets them excited about doing wrestling and having fun with it. That's the whole mentality."