Remembering Bo
Resident was local 'fixture'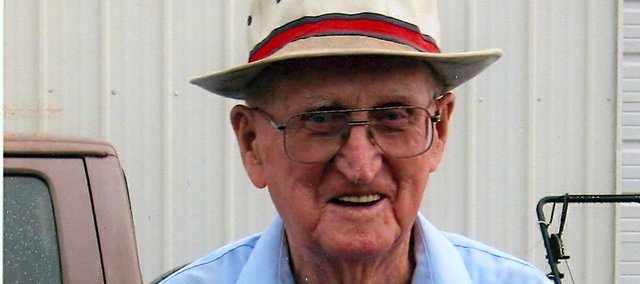 Former VFW Post 9271 Commander Larry Meadows recalls a popular saying when it came to Bo Himpel.
"Rome wasn't built in a day, but Bo Himpel also was not the foreman," Meadows said.
The line usually drew a laugh from Himpel, Meadows said, but there was some truth to it.
A charter member of the Tonganoxie Veterans of Foreign Wars post in 1985, Himpel helped with creation of VFW Park in 1995. He volunteered to mow the park for several years.
"Bo wasn't satisfied with just having a simple park," Meadows said. "He wanted to have the best. That's kind of what set him apart from the rest of the people."
Arthur C. "Bo" Himpel died Thursday at his Tonganoxie home. He was 92.
Himpel was diagnosed with congestive heart failure in late January, said his niece, Diane Bretthauer.
Despite the diagnosis, he continued to plug away, still working at Himpel Lumber last week.
"He was an icon," Bretthauer said. "He and his brown truck."
The truck, a Ford F-150, went by the name of Brownie, Bretthauer said. Most days, it was parked near Himpel Lumber, a business Himpel and his late wife, Ona, owned before selling it to Charlie and Sheri Ussery on Jan. 1, 1983. The couples functioned as business partners for two years, per the ownership agreement, Charlie Ussery said. And Bo Himpel continued to work at the lumber yard for years to come. The business was open six days a week until the late 1990s when Himpel Lumber extended its hours to Sundays.
"We had to almost run him off sometimes," Ussery said. "He would want to work seven days a week."
Himpel "always was about the customer," he said.
"He will be missed," Ussery said. "He was always trying to teach the young fellows the proper way to do things and get it done."
When he wasn't working at the lumber yard, Himpel was taking care of VFW Park, which is fitting, Bretthauer said.
"He was really big on patriotism," Bretthauer said. "His country meant a lot to him."
Himpel also knew how to enjoy life.
At a family gathering last Fourth of July, Himpel saw the small snap fireworks that pop when thrown at the ground for the first time.
"He thought those were the neatest things," Bretthauer said. "He went through more boxes than the grandkids."
Around Christmas, he was known to younger family members as Uncle BoHo for his ho-ho-ho attitude when decorating his house years ago. He also was in charge of handing out presents on Christmas Eve, Bretthauer said.
He also will be remembered for his generosity.
"Uncle Bo's philosophy was if you can afford to do something for someone, you do it. He didn't expect anything in return. He expected you to pay it forward."
A 1937 Tonganoxie High School graduate, he worked in the aircraft industry in California and served in the Army during World War II. He also was a painter in California before returning to Tonganoxie where he farmed and later worked as a construction contractor before opening the lumber yard.
His contributions to the community didn't go unnoticed.
Last fall, he was inducted into the Tonganoxie USD 464 Education Foundation Hall of Fame as its first Alumni Achievement Award winner.
He also was a former Tonganoxie City Council member. At the start of Monday's meeting, the current council asked for a moment of silence to honor Himpel.
Early last week, Meadows saw Himpel taking a break at VFW Park in his car. Meadows asked him how he was doing.
"I'm doing fine," Meadows said of Himpel's response. "By the way, have you looked at the bridge? It's trying to wash out. We need to do something about that."
Even in his final days, Himpel continued to watch over the park he helped build and maintain.
"I think that was his favorite place in Tonganoxie," Meadows said.