Chieftains fall in first round of Butch Foster Classic
THS

can't find offense in 10-1 loss to Spring Hill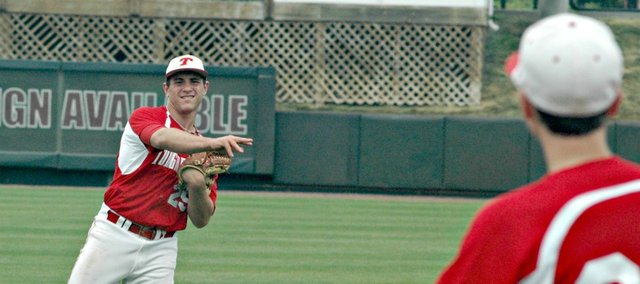 Photo Gallery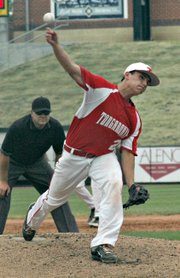 THS baseball vs. Spring Hill
The Tonganoxie High baseball team dropped a 10-1 decision to Spring Hill Thursday at CommunityAmerica Ballpark.
Kansas City, Kan. — Tonganoxie High got off to an unfavorable start in the Butch Foster Memorial Baseball Classic, dropping a 10-1 decision to Spring Hill Thursday at CommunityAmerica Ballpark.
The Chieftains (3-13) managed just three hits against the Broncos and scored their only run on a passed ball.
"We've got to get a more aggressive approach," coach Mitch Loomis said. "We swing really timid a lot. We're barely putting the ball in play. We've got to get back to driving the ball into gaps, especially when we're up in the count."
Spring Hill scored one run each in the first and second inning, then took control with a four-run third. Bronco first baseman Zach Girrens hit a two-run home run to left field during the scoring burst.
THS scored its only run of the game when junior Brett Shelton scored on a passed ball in the bottom of the fourth. Spring Hill scored one in the fifth and three in the sixth for the final margin of victory.
Chieftain senior Tyler Freeman allowed all 10 runs on the mound, but with the exception of the four-spot in the third, he kept the Broncos from putting together a big inning.
"That team hits the ball really well," Loomis said. "They're one of the better hitting teams we're going to see, but (Harkrader) did a good job keeping hitters off balance and not letting a big inning happen. We made them earn most of their 10 runs."
Freeman struck out one hitter and walked two in 5.1 innings. He was relieved by freshman Justin Wagner in the sixth.
Despite recording just three hits, THS had several scoring opportunities throughout the game. The team had runners on with less than two outs in the fourth, fifth and sixth innings, but Spring Hill extinguished all three threats with double plays.
"It means you're squaring the ball up hard at people, but they just took us out of everything," Loomis said. "They killed any momentum we might have had."
Loomis' squad will take on Paola at 5 p.m. in Friday's semifinal. The Panthers fell 5-2 to Basehor-Linwood in their first-round game.
"(Paola) is another real good team, but our kids are good about (bouncing back)," Loomis said. "They've done a real nice job all year. We're just looking for opportunities to get better for the postseason, so that's what we're playing for right now."
Spring Hill 114 013 0 — 10
Tonganoxie 000 100 0 — 1
Leading hitters: Shane Levy 2-3; Austin Harkrader 1-3.