THS

baseball can't end skid vs. Paola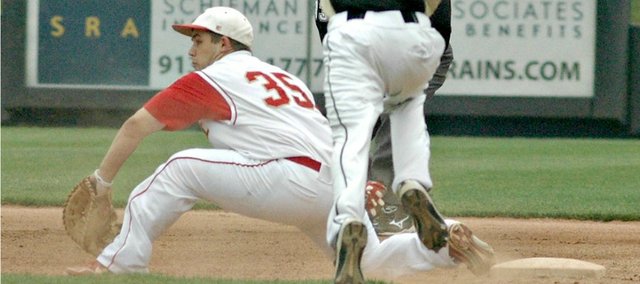 Photo Gallery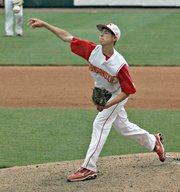 THS baseball vs. Paola
The Chieftain baseball team dropped a 6-2 decision to Paola Friday at CommunityAmerica Ballpark.
Defensively, Tonganoxie High did enough to get back in the win column Friday against Paola at the Butch Foster Memorial Baseball Classic. However, the Chieftains' struggles at the plate kept their losing streak alive.
A two-run home run by junior Cody Saladin was all the offense THS (3-14) could manage in a 6-2 loss in consolation action at CommunityAmerica Ballpark.
Coach Mitch Loomis' squad totaled just five hits as it suffered its fifth straight defeat.
"We just weren't very good through the first three or four innings," Loomis said. "Our heads weren't really in it, so we were just doing some really ill-advised things."
The Panthers jumped out to a 4-0 lead after three innings, but Chieftain sophomore pitcher Travis Woods regained his composure and found a groove on the mound. Woods, who went the distance on the mound, allowed just two hits through the final three innings. He struck out five hitters and walked four in the contest.
With one runner on base and two out in the top of the sixth, Saladin put THS on the scoreboard with a homer over the left field fence.
"We went hit and run there. If they all went like that, we'd be doing all right," Loomis said. "(Saladin) just stayed back and put the ball in play. Good things happen when you do that. He gave us a little spark there, which is huge."
Freshman Connor Wentz-Hall had the Chieftains' only multi-hit game, going 2-for-3 with a pair of singles.
THS will take on Holton in the seventh-place game at noon Saturday. The Wildcats dropped a 13-2 decision to Perry-Lecompton in the first round, then fell 11-1 to Bonner Springs in the consolation round.
"It's just another game," Loomis said. "We made some improvements in the second half of (Friday's) game, so we've got to build off that and make sure we don't regress. We've got to focus on taking some steps forward."
Score by inning
THS 000 002 0 — 2
PHS 211020 X — 6
Leading hitters: Cody Saladin 1-1, HR, 2 RBI; Connor Wentz-Hall 2-3.
Thursday's scores
Basehor-Linwood 5, Paola 2
Spring Hill 10, Tonganoxie 1
Perry-Lecompton 13, Holton 2
St. James 8, Bonner Springs 3
Friday's scores
Bonner Springs 11, Holton 1
St. James 16, Perry-Lecompton 0
Paola 6, Tonganoxie 2
Basehor-Linwood vs. Spring Hill, 7 p.m.