Food: Fully-loaded salad doesn't need fat to be satisfying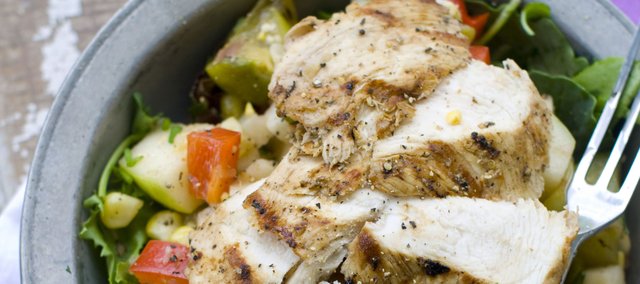 Salads can be a great way to pile on the vegetables, not to mention serve as a fine canvas for showing off summer's bounty.
But eating a plate full of greens can be a bit boring. Too often, we are tempted to pile on fatty toppings like cheese, bacon, seeds and nuts, or rich dressings, all in an attempt to amplify the flavor.
So we decided to create a salad that is both jammed with healthy vegetables — including a whole mess of greens — but also has tons of flavor (without tons of fat).
But to really make this a meal, we also topped it with strips of grilled chicken. Shrimp or tofu would be easy substitutes.
Chopped Summer Salad With Grilled Chicken And Herbs
Start to finish: 45 minutes active, plus marinating
Servings: 4
For the chicken:
1 teaspoon olive oil
2 tablespoons red wine vinegar
1/2 teaspoon salt
1/2 teaspoon ground black pepper
2 cloves garlic, minced
1 pound chicken breast cutlets or tenders
For the greens:
5-ounce package mixed spring greens
2 tablespoons chopped fresh chives
3 tablespoons chopped fresh cilantro leaves
3 tablespoons torn fresh basil leaves
3 tablespoons chopped fresh parsley leaves
1 tablespoon minced fresh mint
For the vinaigrette:
1/4 cup rice wine vinegar
2 teaspoons sugar
1 teaspoon salt
Pinch of allspice
Pinch of ground cloves
1/4 cup finely chopped shallots
2 teaspoons Dijon mustard
1 tablespoon olive oil
For the chopped vegetables:
2 ears corn, husked
2 tomatillos, husked and halved
2 medium apples, cored and chopped
1 cup peeled and chopped jicama
1 red bell pepper, cored and chopped
To prepare the chicken, in a zip-close plastic bag, combine the olive oil, red wine vinegar, salt, black pepper and garlic. Add the chicken, then massage the marinade into the meat. Refrigerate for 2 hours or overnight.
Meanwhile, prepare the greens. In a large bowl, combine the mixed greens, chives, cilantro, basil, parsley and mint. Cover with plastic wrap and refrigerate for 2 hours or overnight.
When ready to cook the chicken, prepare the vinaigrette. In a small saucepan over medium-high heat, combine the rice wine vinegar, sugar, salt, allspice, cloves and shallots. Bring to a simmer and cook for 5 minutes. Remove from the heat and let cool. Whisk in the mustard and olive oil.
Heat the grill to high. Add the chicken, both ears of corn and the tomatillos to the grill. The chicken should grill for 2 to 3 minutes per side. The corn should grill for about the same time, but with frequent turning to sear all sides. The tomatillos should be grilled for the same duration, cut side down. Transfer the vegetables to a plate to cool.
Once cooled, chop the tomatillos. Cut the kernels off the corn.
In a medium bowl, combine the corn, tomatillos, apples, jicama and bell pepper. Drizzle the vinaigrette over the vegetables, then toss to coat.
To serve, divide the greens between 4 plates. Top with the chopped vegetable mixture, then the grilled chicken.