Questionnaire: Connie O'Brien, 42nd District Kansas House race
Editor's note: State Rep. Connie O'Brien of rural Tonganoxie is running against Sandra Bohne of rural Leavenworth in the Republican primary for the 42nd Kansas House District, which includes parts of Leavenworth, as well as Tonganoxie and Eudora. Click here to read more about O'Brien.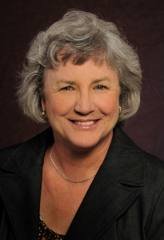 Biographical information
Connie O'Brien
Age: 65
Occupation: Retired. Worked as a teacher and then as a substitute teacher, mainly in special education.
Married: Yes
Children: 11 children
Religious affiliation: Catholic
Education: Bachelor's degree in social studies and secondary education from University of St. Mary in Leavenworth; associate's degree in liberal arts from Kansas City Kansas Community College.
Experience: Elected in 2008 to the Kansas House as the 42nd District representative. Past president of Leavenworth County Republican Women and vice chair of the Leavenworth County Republican Party the past four years. Graduated from Eisenhower Women's Public Service Series.
Quote: "Kansas has come from dead last in private sector job creation to 13th nationally. Unemployment has dropped from 6.9 percent to 6.1 percent in less than two years but there is still room for improvement. I am proud to have been a part of that process. People may go to the East Coast or West Coast to vacation but they will come to Kansas to live, work, do business and raise a family. I want to make Kansas the business heart of America."
Q: Why did you decide to run for this seat? What would be your top priority if electd to the Legislature?
A: We are making progress. We are on the road to recovery. We are addressing issues that have been on the back burner for far too long. Issues like making KPERS solvent into the future. I have been part of that progress. We've balanced the budget and lowered taxes. We ended the 2012 legislative session with a five hundred million dollar General Revenue ending balance and we lowered income taxes for Kansas citizens and businesses. I would like to continue the work of lowering taxes, opt out of Obamacare and work to make education effective and efficient for teachers and students.
Q: There has been much concern that the tax cuts signed into law by Gov. Sam Brownback — especially the portion that eliminates taxes on non-wage income for numerous business owners — will deprive the state of the revenue needed to properly fund schools, social services and public safety. Will you seek or support efforts to pare back those tax breaks for businesses?
A: We passed legislation reducing the state's income taxes on businesses and citizens in Kansas. We plan to continue incrementally reducing the state's incomes tax until it is totally eliminated. Other states that have reduced or eliminated income taxes are prospering. They have not experience the economic downturns that have gripped our country. Allowing businesses and citizens to keep more of their own money has stimulated economic growth and been a key factor in job creation. This economic activity has resulted in increased revenue for the state, revenues that can be applied to education medicaid, public safety, etc. People are voting with their feet, They are moving from high tax states to lower tax states, because the jobs are there. My motto is Job creation, not taxation.
Q: Do you think schools are adequately funded? If not, what would be a proper level of funding and how would the state get that revenue?
A: Currently 53 percent of every tax dollar from the states general fund goes to K-12 education. When higher education funding is added in that's 68 percent of every tax dollar. In 2012 we passed legislation to increase education funding by $43 million, that about $60 more per student. This shows the states commitment to education. The Department of Education estimated that Kansas schools receive an average of $12,000 per student. We also passed a statue to ensure that 65 percent of the funding goes directly to the classroom, unfortunately few districts meet that requirement which also impacts the classroom and teachers. I believe in local control. School Boards should have more control over how their education resources are used. I would like to see No child left behind repealed, it has not turned out as planned. The Montoy law suit and decision of 2005 increased funding for education by $925 million. The state of Kansas is being sued again. Several schools have joined in a class action law suit asking for an additional $2 billion per year in education funds. I don't believe schools should be using tax dollars to hire lawyers to sue the state, taxpayers, for more tax dollars.

Q: Are there areas in the state budget that could be reduced?
A: The state hasn't always looked for ways to control spending and balance the budget. In 2012 the Kansas House passed the Pay Go rule. That helped us control spending. We need to keep the "Pay Go" rule. Legislators passed a bill requiring 80 percent of all revenues from the sale of state property and 50 percent of all the gaming revenues after the first 10 million will go to KPERS. We need to make sure that only those who are truly eligible for welfare are receiving benefits from the state. We must make sure that state benefits are going to Kansas citizens first. If we continue to control spending and incrementally reduce income taxes our economy will improve, giving us additional revenue to address the obligations Kansas has to our military veterans, education. Medicaid, law enforcement, etc.

Q: Why should voters select you instead of your opponent?
A: My opponent claims to be a fiscal conservative but she does not believe that cutting income taxes is the "silver bullet" that will help us create wealth and jobs in Kansas. She has stated that cutting income taxes would shift the tax burden to local governments. That hasn't been the case in other states. My opponent has referred to me as a "ultra conservative". I consider that a compliment. I guess that makes her the moderate. My fear is that she would block efforts to control spending, grow the economy, and reduce taxes in Kansas. My opponent claims to be a fiscal conservative, pro-life, and a Second Amendment rights supporter. I have a voting record and the endorsements that prove where I stand on these issues.