Chieftain cross country team finishes summer running program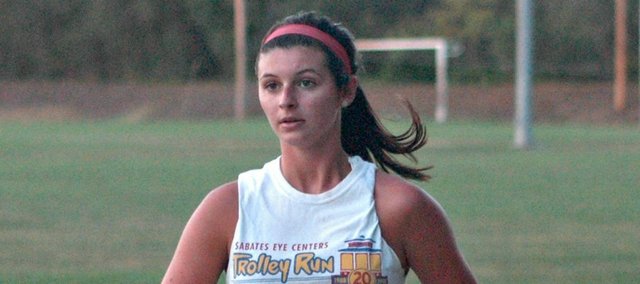 Photo Gallery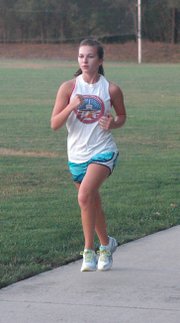 THS summer running program
The Chieftain cross country team finishes its summer running program Thursday at Chieftain Park.
The start of the 2012 cross country season is still a few weeks away, but the Tonganoxie High squad have already spent plenty of time preparing for the upcoming year.
The Chieftains met Thursday to wrap up their summer running program, which has taken place twice a week since the beginning of July. Approximately 20-25 runners met on Tuesday and Thursday evenings at Chieftain Park to get themselves in shape for the season.
"I think (the summer program) is definitely helpful," senior Rachel Woods said. "During the summer, a lot of us, even though we say we're going to run, we don't. This way, you at least get together with people and you have a little more motivation to do it. I love it when I drive up and there's a lot of people here. It makes me more excited for the season."
Woods is one of several girls back from last year's team that finished ninth at regionals and missed the state cut. She admitted that a state bid is the team's primary goal, but emphasized the importance of runners lowering their individual times throughout the fall.
"It's a team sport, but at the same time, it's an individual sport," she said."
The THS boys enter the semester in search of their third consecutive state bid. The team finished 12th at state in 2010 and seventh at last year's meet, but must replace several key pieces as it enters the 2012 campaign.
However, according to incoming senior Brett Morey, the summer running program has already given this year's squad a leg up preparing for what they hope will be their three-peat season.
"It helps a lot. It gets us ready for the season so it doesn't take until about week five to get into prime shape," Morey said. "We've had a really good group the past few years, so it's going to be pretty tough to live up to those expectations. We made it to state the past two years, and that should be our goal this year, too."