The rising costs of sports: Equipment, travel, fees hit pocketbooks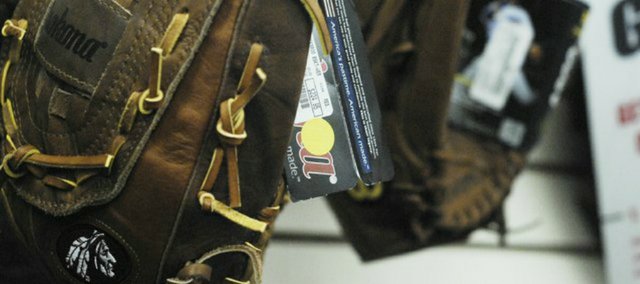 To play the game, you have to pay.
Activities fees and summer league fees, sure. But also gas, airfare, hotels.
And equipment? Spending on the latest baseball and softball equipment alone totaled $488 million in wholesale sales in 2010, according to a New York Times article this past spring.
That's not yet factoring in the costs of uniforms, footwear or Under Armour accessories.
The costs of playing sports keep climbing as pricier equipment is marketed to parents and children, who start out at earlier ages than ever before. The summer leagues they hope to play for promise greater exposure through nationwide travel — travel that, for some, sends them on the road nearly every weekend.
And parents who don't fork over up to $250 for the latest baseball glove or titanium bat, instead opting to find cheaper alternatives, risk watching their child feel left out at a vulnerable age.
Some athletic departments find themselves unable to compete when large swaths of their surrounding communities struggle to afford enrolling children in sports before they reach high school. While they are priced out of contending for championships, others dig deep to pay for what they hope is an investment in the future.
"There is virtually no limit to what you can spend on kids' sports — especially if you are determined that your child plays in every tournament and seizes every opportunity," said Mark Hyman, author of "The Most Expensive Game in Town: The Rising Cost of Youth Sports and the Toll on Today's Families."
In recent years, entrepreneurs have — perhaps recognizing the appeal of Baby Einstein videos — even marketed sports instruction videos called "Baby Goes Pro" and "Athletic Baby" intended for children not yet 1 year old.
"We as parents are very vulnerable," Hyman said. "We don't want our children to fall behind, that's a great fear of parents."
'Not-so-cheap entertainment'
Jeff Watson knows a thing or two about the travel involved with youth sports. With two kids in college and two more in high school, he's invested more than a little time, effort and money from season to season.
Watson, the owner of Starr Construction in Tonganoxie, currently has two stepdaughters entrenched in athletics at Tonganoxie High School. Incoming senior Jenny Whitledge is involved with the Chieftain volleyball, basketball and track and field teams. Her sister, sophomore Jackie Whitledge, also plays volleyball and runs track.
The ride doesn't stop at the end of the school year, either. Jenny also plays for the Midwest Juniors Volleyball Club in Wellsville, so for Watson, athletics are truly a year-round commitment.
"(Sports) are my vacation, if you will," Watson said. "I always call it my 'cheap entertainment,' but anybody who is involved knows it's not cheap. I told somebody once before that I probably spend $2,500-3,000 a year just on nickel and dime stuff — gas, eating out, hotels and other stuff at these places we go to."
With at least one kid in action at any given time, Watson often finds himself on the road to games, camps or clinics. Last basketball season alone, he drove an estimated 400 miles for THS road games. The number was roughly the same for volleyball games, and he added a few hundred more for track meets during the spring. Add in a summer volleyball team and various offseason camps and tournaments, and that number can grow at an alarming rate.
The mileage might start to add up — not to mention the gas bill or other expenses — but Watson knows all too well that young athletes with college aspirations can't afford to take a break from honing their skills.
"You can easily put in 3,000 to 4,000 miles in a year," said Watson, a former college athlete himself. "But a lot of kids that want to prosper and play at the next level, they know they've got to play outside the circle. It takes a total, 100-percent commitment on the parents' side.
"It's going to take time and it's going to cost you, but if your kid has a desire to play at the next level, the bottom line is, in any sport, you've got to get more reps in."
Watson has seen the hard work pay off once before. His daughter, 2008 THS grad Brittany Watson, spent four years with the Chieftain Stars dance team. She then danced at Johnson County Community College, where she worked her way up to captain, and now dances at Avila University in Kansas City, Mo.
The opportunity is now fast approaching for Jenny, who has already received attention from several universities in all three sports. She has yet to decide on a school, but according to Watson, all the time, travel and money will have been well-spent when it translates to a college education.
"If (Jenny) can get through college without owing a dime coming out of it, it was worth it," he said. "What I paid out of my pocket will look like chump change compared to what a four-year degree would have cost. With her being a competitor, it's all worth it because she wants to play at the next level."
'Youth sports tourism'
Chad Younger figures that it has cost an upwards of $3,000 this summer to put his son, Chase, a junior on the Basehor-Linwood basketball team, through summer tournaments both with the school and his AAU team.
In addition to the Bobcats' two tournaments and team camp, by summer's end, Chase will have competed in six tournaments with his AAU team: two in Kansas City and one each in St. Louis, Chicago, Minnesota and Iowa.
Nike's sponsorship of AAU helped alleviate costs on shoes, uniforms and bags, Younger said, adding that team fees totaled about $1,100. But a flight to Chicago and hotel fares to watch Chase perform in front of more than 110 Division I basketball coaches further tapped the pocketbook.
In his book, Hyman writes about "youth sports tourism," the shift from playing in one's neighborhood toward traveling hundreds of miles to play in a soccer or baseball tournament.
"It became a real economic development tool for a lot of communities," Hyman said. "At first it'd be one or two weekends a year for families, now that's their entire summer."
For parents of student athletes like Chase, who will likely play a prominent role in the Bobcats' offense this winter, these costs are looked upon as an investment in what could one day help pay for college.
"That's probably the biggest incentive, knowing that even if we spend $10,000 over his high school career, he'll have an education somewhere," Younger said.
Chase contributed to a Basehor-Linwood team that captured its second state title in four years last March. Amid the celebrations that followed was also sticker shock. When the Bobcats received their 4A state championship rings, parents also received a bill for about $300 per ring.
'I'm happy to write that check'
Basehor-Linwood's rival neighbor, Bonner Springs, has caught the attention of parents like Younger. To help pay for summer basketball and volleyball tournaments, the school has hosted multiple fundraisers, even inviting players to help serve concessions to take a chunk out of their fees.
"Not all the high schools around here do that," Dawn Jackson said. Jackson's oldest son, J.J., recently graduated from Bonner Springs and will attend Coffeyville Community College to play football this fall.
Jackson's other three children — Bonner Springs junior Jordan, freshman Julianne Jackson and 12-year-old Jameson — are multi-sport athletes like their older brother.
From the start, Dawn and her husband, Jonathan, encouraged their children to try as many sports as they'd like.
That may have been difficult had the school not had the ability to raise funds or to offer 7-on-7 football at no charge — or reduced rates for families of two or more for a summer conditioning program.
Bonner Springs' summer conditioning program cost $25 per student, or $40 per family, Jackson said. Even J.J. came back to the weight room for a final summer.
"It makes it more encouraging for my boys and daughter to participate with that fee," Dawn Jackson said. "I'm happy to write that check."
Jameson is also getting started out in basketball early, playing for the Kansas Force, a group of year-round competitive teams for boys and girls from third- to eighth-grade.
Donnie Taylor has coached Kansas Force teams for two years. He said his team charges a monthly fee of $25 to cover gym time and facilities use. For tournaments, costs are split amongst however many girls are available to play that weekend.
"It's tough to ask parents all the time for money or to compete with those leagues around here where whoever has the money can get any girl they want," Taylor said. "We try get everybody playing time who pays for tournament fees."
With his daughter Kayleigh, who will be a sophomore on the Bonner Springs girls basketball team, Taylor is also realizing the benefits of the Braves' fundraising structure.
"Coach (Clay) Oakes does a great job with the girls," Taylor said. "He spends a lot of time in the summer getting stuff together to make sure it works right where girls don't have to come out of their pocket for some of the fees."
'All this money builds up'
Shawnee Mission North athletic director George Sallas can remember when his school was a powerhouse. In fact, he was there for it as a member of the Class of '74, and when he returned as a coach in the early 1980s.
From 1969 to 1971, SM North won three straight state titles in football and another in 1974, the same year cross-country earned its lone title.
Volleyball went back-to-back in 1972 and 1973. For a time, track and field synchronized its titles to presidential elections (1964, 1968, 1972). The baseball team's 1982 championship came during the softball team's string of five titles between 1978 and 1992.
Pretty soon, though, new plaques weren't being hung in the school. The last time a team won a state championship was volleyball in 2002. Of the 21 state championships at SM North, the average year in which those titles were won was about 1978 (the same year gymnastics won its second of two titles).
The drop-off didn't occur suddenly, Sallas said as he sat in the school library, collecting fees before the new school year.
Sallas grew up in Mission, one of a handful of neighboring cities that feed into SM North. Over time, Sallas said, a disparity between SM North and the other four Shawnee Mission School District schools has formed. Most of the primary communities that feed into SM North have older homes — 37 percent of homes in Mission were built before 1960, as well as 31 percent in Merriam and 80 percent in Roeland Park — while younger, more affluent couples have started families in Lenexa or Olathe, where less than 8 percent of homes are 50 years old or older.
Meanwhile, families living in low-income apartments near the school are often unable to afford youth league fees and equipment costs, meaning many athletes pick up a sport at SM North for the first time.
According to data from the National Center for Education Statistics, SM North led all SMSD schools in the 2009-10 school year with more than a third of all students qualifying for free or reduced lunch, compared to just 7 percent at SM East, 20 percent at SM Northwest and SM South and 24 percent at SM West.
"While you can't just paint a broad stroke and say if you're affluent, you'll be a good athlete," Sallas said, "you also have to understand that some of the parents in the North area don't have the means (to enroll kids in youth sports), and those kids lost those years of experience before they got to high school."
As Sallas considers this, he looks at a list of activities offered at SM North and thinks about how much it costs to outfit a child for each. From a $50 gymnastics leotard to basketball shoes, the cheapest of which cost at least $75 to $100. Baseball's costs have skyrocketed since his playing days, too, Sallas said.
Couple that with the costs to keep up with AAU teams, or offseason soccer and camps and clinics and…
"All this money builds up," Sallas said. "And unfortunately it's the haves that get to do it and the have-nots who can't afford it."
It wasn't like that 25 years ago, Hyman said, when local recreation leagues represented the chief means of youth sports competition outside of school. Whereas different socioeconomic classes once converged, Hyman said travel teams and registration fees totaling hundreds of dollars have undone that reality.
"It's hard for me having grown up in this area, having gone to North and watch as North just struggles to compete," Sallas said, "because when I was here it wasn't like that. We had the athletes."
Sallas pauses, and clarifies that it's not that SM North doesn't have good athletes, it's that they don't have them in the numbers its rivals field.
"It's the depth and number of athletes you have that really makes the program," he said. "North has good athletes. But when you have four to six good basketball players, who will they practice against? Who will push them to get better?"
'It gets to be very pricey'
In May, Mill Valley baseball coach Jeff Strickland traveled to Wichita for the 5A state baseball tournament, but also to watch his daughter, Kati, compete in her final state track and field meet.
Memorial Day weekend ended a journey that began with Kati kicking around a soccer ball at 3 and picking up a basketball in second grade. Soon, basketball occupied much of Kati's time. Strickland said his daughter was playing 60 to 70 games a year by fourth grade.
Kati moved up to travel teams like the Kansas Dream. One summer, the Stricklands traveled with Kati to watch her play in Lincoln, Neb. A three-night stay in a hotel, plus fuel and meals cost upwards of $500 for one trip, Strickland said.
"You do that several times in a summer," he said, "it gets to be very pricey."
Yet the end of that journey, after all those summers, Kati is off to Emporia State University to compete for the college's cross-country and track and field teams.
"The sports that cost no money," Strickland said with a laugh.
It's not as though he would have done anything different. Sure, money could have been saved, but as a coach, Strickland understands the importance of playing team sports at an early age. When sports are seen as a career path for children, Hyman said, questionable decisions are made. But when decisions are made on behalf of the children, they can flourish.
For the Youngers, Jacksons, Taylors and Stricklands, careful management of their child's playing career and the money spent supporting it is seen to amount to a long-term investment.
"About every one of those kids she played with are going to college and playing some type of sport at the next level," Strickland said. "It was a neat experience, kids like it, but man-oh-man it was a lot of money."
— The section on Jeff Watson was written by The Mirror's Justin Nutter, jnutter@theworldco.info.