Oldham wins Al Dyer Memorial Draft Horse Pull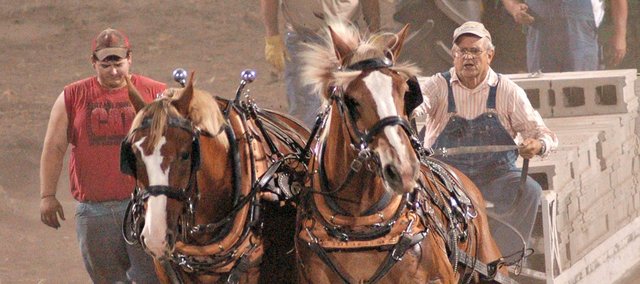 It took several more rounds and nearly 2,000 more pounds than a year ago, but the Al Dyer Memorial Draft Horse Pull is in the books.
Twelve teams from Kansas, Iowa, Oklahoma and Missouri congregated at the Leavenworth County Fairgrounds on Tuesday for the 2012 edition of the horse pull. Fans watched as horses attempted to drag a weighted sled over a distance of 20 feet without stopping or stepping outside a 15-foot lane.
Larry Oldham of Osawatomie surpassed the 10,000-pound mark to win the competition. His horses, Ted and Tony, pulled a weight of 10,500 pounds — three times their combined weight — a distance of 4 feet, 1 inch.
No horses eclipsed the 9,000-pound barrier at last year's competition.
"The track was good and level," said Oldham, who has competed in horse pulls for the better part of the last six decades. "(The horses) worked good tonight, so it was just one of those good nights."
Terry Ellis of Colony came in second place. His horses, Bill and Davie (3,700 combined pounds), pulled a weight of 10,700 pounds a length of 2 feet, 6 inches.