Family orthotics business growing with move to Edwardsville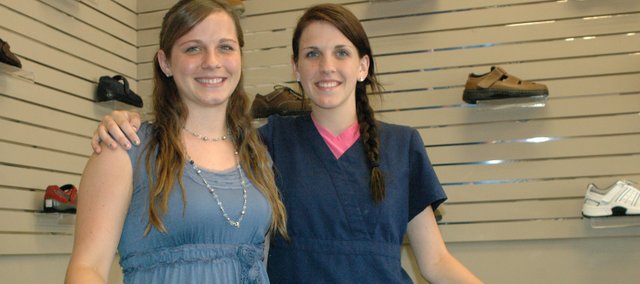 Mid Star Lab has a saying it prints on T-shirts for employees: "Kick me if I can't help with your foot pain."
And the family business now may help even more people with foot pain, as it has doubled in size with a move to 10935 Kaw Dr. in Edwardsville and is greatly expanding its services.
Kari and Ron Wagner started the business 14 years ago and now are joined by daughter Kelsey Wagner and daughter and son-in-law Jennifer and Jack Belcher. The orthotic manufacturing company provides custom shoe inserts to podiatrists, chiropractors, physical therapists and orthopedic surgeons nationally, but now they have added services open to the general public.
The Wagners say that orthotics can help everyone from those with diabetes or other medical problems to those who are just having general foot pain or problems like plantar fasciitis and bunions.
"I always say 95 percent of the population could and should be wearing orthotics, whether it's preventative or maintaining a healthy foot," Jennifer Belcher said. "If I go a day without my orthotics, I'm hurting."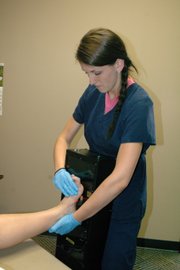 They said problems with your feet can lead to problems further up in the body: ankles, knees, hips and back.
"What I always tell patients is your feet are your foundation; they're what's holding you, they're supporting you. If you don't take care of those, you're just going to be done for," Kelsey Wagner said.
The Wagners formed the company at their home in Basehor in 1998. Ron Wagner had worked in orthotics for a firms Dallas and Minnesota, and he said he saw a need for the service in Kansas City.
They began creating custom foot orthotics, sold wholesale to podiatrists only. Within six months, they needed to expand, so they moved the business to a space that was twice the size. In 2000, the family moved to Tonganoxie, they moved the business with them, once again with double the space.
The space the business needed doubled yet again, requiring the move to Edwardsville. The Wagners say they chose Edwardsville for its easy access to major highways.
After 26 years of doing foot orthotics, the Wagners have achieved the correct certifications to see patients, create custom arch supports for therapeutic shoes up to size 15, and bill insurance with a doctor referral. They began therapeutic shoe fitting through hospital clinics last year and now see walk-in customers.
Kelsey Wagner also recently completed certifications that will allow her to provide even more services. As a prosthetist and orthotist, in addition to three other certifications, she will help the business make and dispense custom prosthetics for amputees and custom braces for orthopedic patients, which they hope to begin to do next year. With a dozen employees already, the service expansion will require them to add four more.
The expansion is all part of the plan for Kelsey Wagner and Jennifer Belcher to inherit the business from their parents, and Kelsey said she hopes to help even more people through mission work.
"My plan has always been to graduate early, get certified, take over the business, and use the profits to give to people for use in the mission field," she said.