Construction of stoplight at Basehor intersection where Tonganoxie teacher was killed Friday to begin later this month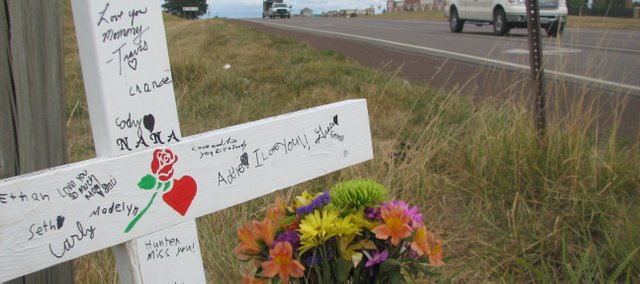 The collision that killed a Tonganoxie teacher at 158th Street and U.S. Highway 24-40 in Basehor on Friday occurred just months before the planned addition of a traffic signal at the intersection.
Ronda Andrews, a second-grade teacher at Genesis Christian Academy in Tonganoxie, died when her vehicle was struck as she made a left turn onto the highway Friday afternoon. Andrews, 53, was pronounced dead at the scene.
The Kansas Department of Transportation announced plans to install a stoplight at the intersection in 2010, with a goal of finishing the project in time for the 2012-13 school year, which begins this week. However, delays in obtaining rights of way, along with the relocation of utility lines, pushed the project back, said KDOT spokeswoman Kim Qualls.
"Right of way and utility is always a big thing on projects," Qualls said.
Traffic signals should be installed and operational by sometime in December, Qualls said. KDOT also will make improvements to the intersection, including the addition and extension of left-turn lanes. Construction on the roughly $600,000 project will begin Aug. 27.
KDOT's plans for a stoplight came after years of effort by the city of Basehor and other groups to improve safety at the intersection.
A Tonganoxie teenager died in an accident at the same intersection in 2007. After a series of accidents there in 2010, city, county and school officials asked KDOT to lower the 65 mph speed limit on the highway as it runs through Basehor. After a study — the third one investigating the intersection in a span of four years — KDOT instead announced plans for a stoplight.
"We're really hoping that's going to reduce an awful lot of problems with that intersection," said Basehor Police Chief Lloyd Martley.
Motorists on 158th Street must cross four lanes of traffic on U.S. 24-40 with a hill to the east that obscures their vision. Though Friday was the first time someone died at the intersection in more than five years, Martley said there had been a number of serious accidents and countless close calls there.
"It certainly is another reason why we really pushed to get this stoplight up there, to really help avoid situations like that," he said.
Martley said he believed the stoplight would go a long way toward keeping drivers safe, but if accidents continue to occur at the intersection, the city won't hesitate to push KDOT to make it safer, whether that means reducing the speed limit or something else.
"The stoplight is the first step in trying to make it a lot safer," Martley said.