4-H club remembers girl who died in
ATV

accident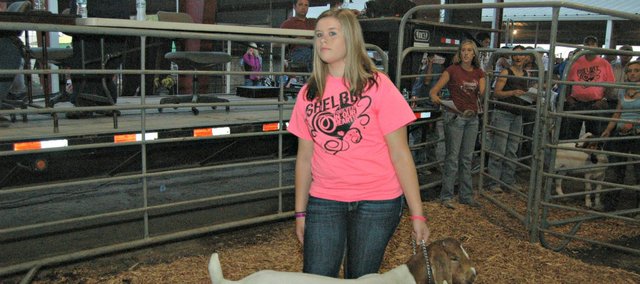 Reminders of Shelbee Heim were prevalent at the Leavenworth County Fair in the form of vibrant pink shirts.
Some 200 shirts were made with the words "Shelbee: Forever in our hearts." Happy Hollow 4-H Club members and others wore the shirts in honor of Heim, who died in an ATV accident July 26 at her family's farm in rural Leavenworth. She would have started fifth grade later this month at Salt Creek Valley School in the Pleasant Ridge school district.
"It's been hard, but it's been good to see her friends down here," Peggy Heim, Shelbee's mother, said Saturday at the fair.
Though it was a difficult week for the family, there were reasons to smile and think of Shelbee.
Last year, Shelbee won grand champion in the market goat category.
This year, older sister Alyson won the same prestigious award.
"It's amazing," Alyson said about building on Shelbee's success. "It makes me feel really good about it."
Alyson said Shelbee gave her some good-natured ribbing at last year's fair for having the better goat. This year, during the livestock auction Friday night, Alyson brought out the goat Shelbee would have sold at the auction.
The pink Shelbee shirts, which also sported a small cat because of her "love for kitties," as Peggy said, could be seen throughout the auction arena at the livestock show. Alyson said it showed that there was a great deal of support for the family following Shelbee's tragic death.
Their father, Gary, said it wasn't easy participating in the fair without Shelbee. But as pink wristbands for Shelbee read, she's "never forgotten."
"She always had a smile on her face, didn't she?" Gary said to Peggy.