Boys soccer team enters 2012 with state tournament in mind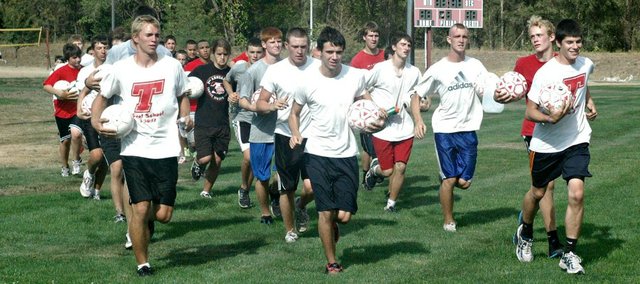 Improvement has been a consistent theme for the Tonganoxie High boys soccer team in recent seasons. Two years ago, THS reached the regional finals. Last year, they took another step and made it to the state quarterfinals.
With the start of the 2012 season just around the corner, the Chieftains have their sights set on the next rung of the ladder: a trip to the state tournament.
"I want to go to state real bad," senior Zack Tallent said. "Last year left a sour taste in my mouth. I don't want to end this year like that. I want to go all the way."
Tallent, who enters his third season as a team captain, was a starter on last year's squad that went 11-7-1 and lost by a goal to St. James Academy in the state quarterfinals. However, with several key pieces of last year's regional championship team back in 2012, there is plenty of excitement surrounding the upcoming season.
Joining Tallent as incoming seniors are Matt Saathoff, Keaton Truesdell, Jeremy Fox, Conner Kietzmann, Jared Colgrove, Luke Faherty and Dallen Price. That group is littered with experience, as several of this year's seniors have seen varsity time since they were freshmen. Saathoff was the team's leading scorer each of the last three seasons and Truesdell enters his fourth year as the Chieftains' starting goalkeeper. Junior Evan Stilgenbauer also returns after spending last year on the varsity roster.
THS isn't without its voids, though, as coach Brian Kroll must replace five starters lost to graduation. That list includes a trio of captains in Matt Briggs, Tyler Bartholomew and Marcus Titterington. All three went on to sign national letters of intent with college programs — Briggs with Manhattan Christian College, Bartholomew with the University of Saint Mary and Titterington with Kansas City Kansas Community College.
"You can't replace any one of those three seniors who were captains," Kroll said. "I'm not looking to replace them. I'm looking for people that want to take their spots. I can definitely hope when I show up, I've got at least two or three kids who are looking to take their spots.
"We lost a lot of talent this last year, but at the same time, you've got to make room for new people."
Kroll, who enters his third season as the Chieftains' head coach, emphasized the importance of building team chemistry and fine-tuning fundamentals as the start of the season approaches. His teams have experienced flashes of success in the last two seasons, but he admitted the team's ultimate goal is to have a sound performance every time it takes the field.
"We're looking to play better soccer," he said. "If our record reflects it, cool. If our record doesn't reflect it, but we're still playing better soccer, cool. I'd rather be winless playing good soccer than go undefeated playing bad soccer."
THS will open its season with three straight road matches, starting Aug. 24 with a trip to Baldwin. The team's first home action won't come until a Sept. 4 meeting with Atchison.
2012 THS boys soccer schedule
Aug. 24 at Baldwin (V/JV), 4 p.m.
Aug. 28 at Bonner Springs (JV/V), 4:30 p.m.
Aug. 30 at Basehor-Linwood (JV/V), 4:30 p.m.
Sept. 4 vs. Atchison (V/JV), 4 p.m.
Sept. 6 vs. Perry-Lecompton (V/JV), 4 p.m.
Sept. 11 vs. Turner (V/JV), 4 p.m.
Sept. 12 at Piper (JV/V), 4:30 p.m.
Sept. 17 vs. Mill Valley (V/JV), 4 p.m.
Sept. 21 at Maranatha (V), 4 p.m.*
Sept. 24 vs. Eudora (V/JV), 4 p.m.
Sept. 25 at Perry-Lecompton (JV/V), 4:30 p.m.
Oct. 1 vs. Lansing (V/JV), 4 p.m.
Oct. 4 vs. Bishop Ward (V/JV), 4 p.m.
Oct. 9 at Maur Hill Prep (V/JV), 4 p.m.
Oct. 11 at Bishop Ward (JV/V), 4:30 p.m.
Oct. 18 vs. Leavenworth (V/JV), 4 p.m.
*Game will be played at Rockhurst University