Chieftain volleyball team will have new look in 2012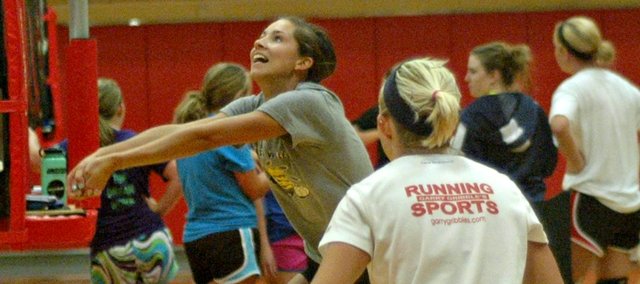 Character, competitiveness and commitment are three primary goals throughout the Tonganoxie High athletics department, so it's no great shock to hear those words used on the Chieftain volleyball court.
THS officially began its 2012 season with a pair of practices on Monday, and it did so with a relatively new look. With five seniors gone from a year ago and just three in this year's class, the Chieftains will field a significantly different starting lineup this fall.
"We're without a very core group of girls that really established our team leadership and expectation-wise," coach Tiffany Parker said. "We've got kids that have been under that for a while, and now it's their turn to set that tone. They have to lead their team, but it's my job to make sure they know what's expected."
Incoming seniors Jenny Whitledge, Madee Walker and Olivia Hollingsworth will look to lead a team that went 29-11 and reached the sub-state semifinals last season. In addition to being the only seniors, they return as the Chieftains' most experienced players. Junior Katelyn Waldeier also saw varsity time in 2011.
Among those who must be replaced from last year's squad are Manhattan Christian College signee Sagan Scates and Butler Community College signee Kailan Kuzmic. With several varsity spots yet to be claimed, Parker assured players will have plenty of opportunities to make their cases for starting jobs.
"Every day, they've got to come in and be focused on the task at hand," she said. "They've got to show that they're competitive and committed to our team and show that they've got great character in how they address their teammates and how they carry themselves both on and off the court."
Several players didn't wait until the first practice to begin preparation for the upcoming season. After the team's summer camp in July, athletes had the opportunity to participate in team workouts twice a week, as well as weight training three times a week.
"We've had a really good summer with a core group of girls who were committed to it," Parker said. "They look really good. I'm excited to see where they're going to push our team this year. I've got kids that are excited about being in the gym. I have everybody here, so that's exciting. They're coming in with a lot of energy and they're ready to play."
Players will continue to lobby for varsity spots until the team's season opener Aug. 27 at home against Atchison.
2012 THS volleyball schedule
Aug. 24 at Perry tournament (JV), 9 a.m.
Aug. 27 vs. Atchison (F/JV/V) , 5 p.m.
Aug. 28 vs. Turner (F/JV/V), 4 p.m.
Aug. 30 vs. Immaculata/Pleasant Ridge (JV), 5 p.m.
Aug. 30 at Paola (F/V), 5 p.m.
Sept. 4 at Lansing quad (F), 5 p.m.
Sept. 5 at Bonner Springs (F), 5 p.m.
Sept. 6 vs. Baldwin (JV/V), 5 p.m.
Sept. 6 at Bishop Ward (F), 5 p.m.
Sept. 11 at Basehor-Linwood (F/JV/V), 4 p.m.
Sept. 13 at Pleasant Ridge (F/JV/V), 5 p.m.
Sept. 15 KVL at Mill Valley (F), 8 a.m.
Sept. 15 at Rossville Invitational (V), 9 a.m.
Sept. 18 vs. Mill Valley (F/JV/V), 4 p.m.
Sept. 20 at Jeff West (JV/V), 5 p.m.
Sept. 22 Tonganoxie Invitational (V), 8 a.m.
Sept. 25 at Lansing (F/JV/V), 4 p.m.
Sept. 27 at Holton (F/JV/V), 4 p.m.
Sept. 29 KVL at Bonner Spr. (JV), 8 a.m.
Oct. 1 at Washington (JV/V) , 4:30 p.m.
Oct. 2 vs. Piper (F/JV/V), 4 p.m.
Oct. 3 at Bonner Springs (F), 5 p.m.
Oct. 4 vs. Piper/Mill Valley/Lansing (F), 5 p.m.
Oct. 6 at De Soto Spikefest (V), 8 a.m.
Oct. 6 at Eudora tournament (JV), 8 p.m.
Oct. 6 at Perry tournament (F), 9 a.m.
Oct. 9 at Bishop Ward (F/JV/V), 4 p.m.
Oct. 11 at Bishop Ward (V), 6 p.m.
Oct. 15 at Perry-Lecompton (JV/V), 5 p.m.
Oct. 16 vs. Bonner Springs (F/JV/V), 4 p.m.