THS

football opens season with early morning practice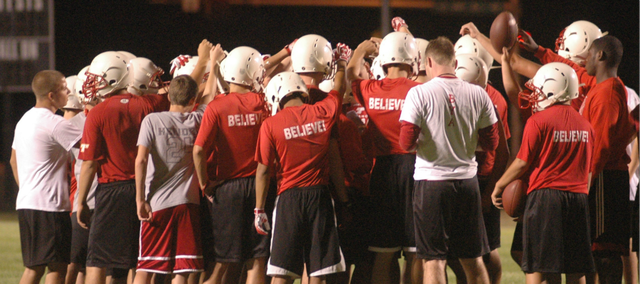 High school sports teams across the state were allowed to begin practice for the 2012 fall season on Monday, and the Tonganoxie High football team didn't waste a minute kicking off a new era.
The Chieftains opened their first season under head coach Al Troyer with a 12:01 a.m. practice at Beatty Field. They enter the upcoming season with hopes of improving on back-to-back 1-8 seasons and, according to their new skipper, things are already off to a good start.
"It was exciting being under the lights," said Troyer, who spent the last four seasons at Larned High School. "The kids were excited about coming out here at 12:01. It was just a fun atmosphere and a cool evening for a change. We had over 60 kids out here, so that was a positive."
THS spent plenty of time on the gridiron throughout the summer, as Troyer and the coaching staff worked to install a new offense and defense into the Chieftain playbook. While he admitted there is still work to do and things to learn — particularly for players who weren't on hand for summer activities — Troyer assured the basics have already been covered.
There will likely be a mix of old and new faces on this year's varsity roster, as the team returns several starters, but also must replace several more on both sides of the ball. Overall, THS will be without roughly half its offensive and defensive production from a year ago.
Offensively, junior Shane Levy returns as the Chieftains' top rusher. He carried the ball 89 times for 431 yards and a touchdown in 2011. Senior Tyler Zinser and junior Tyler Ford are also back after rushing for a combined 250 yards last season. The THS running game loses 426 yards and two touchdowns with the graduation of 2012 senior Derek Lingo, but should receive a boost with the return of junior Cole Holloway. Holloway ran for 105 yards and a touchdown on just nine carries last season before suffering an injury that kept him on the sideline.
The quarterback position isn't quite as defined, as THS will be without the services of former starter Garret Elston. Elston, who won't return to Tonganoxie for his senior season, threw for 277 yards, ran for 285 more and totaled five touchdowns as a junior. Ford served as the backup quarterback last season, completing 10 passes for 105 yards with a touchdown and three interceptions.
This year's starting quarterback will have an experienced receiving corps, as last year's senior class accounted for just nine catches. The Chieftains are in search of a new scoring threat, though, as 2012 graduate Amos White recorded all four of the team's receiving touchdowns last year. Zinser will look to lead the charge this season after hauling in nine passes for 94 yards a year ago.
The offensive line will likely have a newer look than most of the skill positions this season, as Troyer must replace three seniors up front.
The THS defense will be without its top three tacklers from last season in Ryan Lynch, Dallas Jacobs and Elston. The trio combined for 187 stops and three sacks last season. Zinser and Levy lead returning players with 47 and 42 tackles, respectively. The Chieftains will look to improve on last year's pass rush, as Levy and incoming senior Julius Coats are the only two returning players who recorded a sack. Returning defenders also racked up four interceptions and 13 pass breakups a year ago.
With the first game still more than two weeks away, Troyer assured there are still starting jobs up for grabs and players will have plenty of chances to audition for those spots as the season opener draws closer.
"I have kind of an idea, but I haven't seen them in pads yet," he said. "That will be the tell-tale. Everybody looks good in shirt and shorts, but we won't be able to tell really until we get some pads on. They can show me what they can do when it's time to hit."
The team's first action is set for Aug. 31 at Kaw Valley League opponent Lansing. The Chieftains will open their home schedule a week later when they welcome Atchison to Beatty Field.
2012 varsity football schedule
Aug. 31 at Lansing, 7 p.m.
Sept. 7 vs. Atchison, 7 p.m.
Sept. 14 at Piper, 7 p.m.
Sept. 21 vs. Mill Valley, 7 p.m.
Sept. 28 vs. Bishop Ward, 7 p.m.
Oct. 5 at Turner, 7 p.m.
Oct. 12 at Perry-Lecompton, 7 p.m.
Oct. 19 vs. Jeff West, 7 p.m.
Oct. 25 at Basehor-Linwood, 7 p.m.
2012 freshman football schedule
Aug. 30 vs. Basehor-Linwood, 4 p.m.
Sept. 4 vs. Lansing, 4:30 p.m.
Sept. 10 at Atchison, 4:30 p.m.
Sept. 17 vs. Piper, 4:30 p.m.
Sept. 24 at Mill Valley, 4:30 p.m.
Oct. 1 at Bishop Ward, 4:30 p.m.
Oct. 8 vs. Turner, 4:30 p.m.
Oct. 15 vs. Perry-Lecompton, 4:30 p.m.
Oct. 22 at Jeff West, 4:30 p.m.