Bulldog football gunning for playoff bid at end of season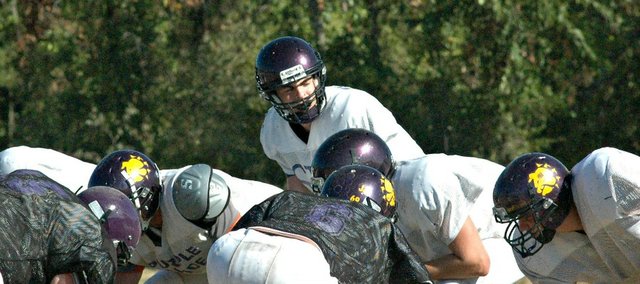 McLouth — In more ways than one, 2011 was a turning point for the McLouth High football team. The Bulldogs went 7-2, surpassing their win total from the previous three seasons (6-21), and just missing their first playoff berth since 2005.
With several key players back and a new district lineup in 2012, this year's squad hopes to not only play in the postseason, but make some noise in the process.
"We got back on track last year," said senior quarterback/safety Marc Walbridge. "We just had more experience finally. Before that, we had maybe two, three, four seniors a year. Last year, we had nine seniors, then six of us juniors. That will pretty much be the same trend this year."
Walbridge, who enters his fourth season as McLouth's starting quarterback, is one of six seniors entering his final season in purple and gold. He's joined by Dakota Cop, Wyatt Farris, Charles Courtney, T.J. Crowell and Matt Horton.
After a 7-0 start last season, including a 6-0 mark against Delaware Valley League opponents, the Bulldogs' season came to a screeching halt with back-to-back district 3A-6 losses to perennial powers Rossville and Silver Lake. However, McLouth will compete in Class 2-1A for the next two years and faces a more favorable — and familiar — district 2 schedule. The list is solely comprised of league foes Leavenworth-Immaculata, Oskaloosa, Valley Falls and Jefferson County North.
The Bulldogs went 4-0 against those teams last season, outscoring them by a combined mark of 194-12.
"(Getting to the playoffs) is going to take quite a bit of work like always, but I think we can do it," said Courtney, who will start on the offensive and defensive lines.
McLouth replaces 2011 district champ Wathena-Riverside, which moved up to Class 3A. JC North was last season's district runner-up.
Several key position players are back from last year's squad, but fifth-year coach Chris Stewart much replace starting running back Shawn Dailey, who ran for 1,126 yards and 19 touchdowns in 2011. Other key losses include a pair of All-DVL selections in lineman Alen Kramer and linebacker Alex Courtney, who are both now playing at Garden City Community College.
Stewart admitted there are several spots to fill up front on both sides of the ball, but with seniors serving as anchors throughout the starting lineup, he's hopeful for a smooth transition.
"I think the seniors are all pretty good leaders. They've all stepped up," Stewart said. "We've got some juniors and some sophomores we're evaluating. We're going day-do-day, talking to them and telling them what we're looking for. That's what we'll do for the next couple weeks."
The Bulldogs will open their 2012 slate Aug. 31 at home against Nemaha Valley.
2012 varsity football schedule
Aug. 31 vs. Nemaha Valley, 7 p.m.
Sept. 7 at Doniphan West, 7 p.m.
Sept. 14 vs. Christ Prep, 7 p.m.
Sept. 21 at Olpe, 7 p.m.
Sept. 28 vs. Pleasant Ridge, 7 p.m.
Oct. 5 vs. JC North, 7 p.m.
Oct. 12 at Oskaloosa, 7 p.m.
Oct. 19 at Valley Falls, 7 p.m.
Oct. 26 vs. Immaculata, 7 p.m.
2012 JV football schedule
Sept. 3 at Nemaha Valley, 4:30 p.m.
Sept. 10 vs. Doniphan West, 6 p.m.
Sept. 17 vs. Christ Prep, 6 p.m.
Sept. 24 vs. Olpe, 5 p.m.
Oct. 1 at Pleasant Ridge, 6 p.m.
Oct. 8 at JC North, 6 p.m.