Five questions: Roll up a sleeve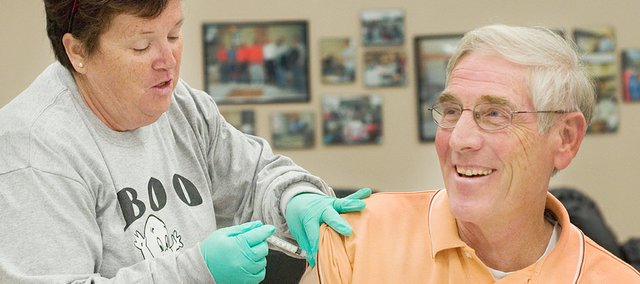 August is National Immunization Awareness Month. The Kansas Department of Health and Environment offers tips to consider when contemplating getting immunized.
Q: Why should people get immunizations?
A: Immunizations can prevent infectious diseases such as chickenpox, whooping cough, measles and meningitis. Though vaccine-preventable diseases may seem uncommon, Kansas continues to investigate cases and outbreaks of these diseases on a regular basis in the state, as do many other states across the United States.
Q: How many cases of whooping cough have been reported this year?
A: According to the Center for Disease Control, more than 17,000 cases of pertussis (whooping cough) and nine pertussis-related deaths have been reported in the U.S. so far this year. The majority of these deaths occurred among infants younger than 3 months of age who were either unvaccinated or not fully vaccinated yet.
Q: Who should get seasonal flu shots?
A: Everyone over the age of 6 months needs to be vaccinated against seasonal flu every year.
Q: Do vaccinations vary by age?
A: Children need a series of vaccinations from birth to age 6. Preteens need recommended vaccinations at age 11 or 12, and teenagers as they enter into high school and college should vaccinate before they graduate. All adults need a variety of vaccinations to prevent diseases such as whooping cough, pneumonia, flu, shingles and more.
Q: Where can I go for more information?
A: For more information on immunizations, visit kdheks.gov/immunize/index.html.