MHS

volleyball seeks improvement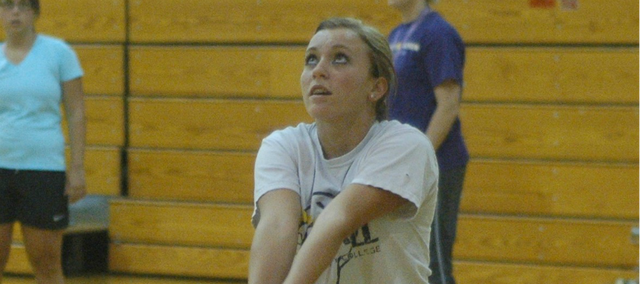 McLouth — Last season didn't exactly go how the McLouth High volleyball team had hoped. However, with a new look and new leadership in 2012, the Bulldogs are hopeful they can improve on last year's forgettable season.
After spending the previous two seasons as an assistant, Kay Koch enters her first as the MHS head coach. She inherits a team that went 4-31 last season and exited the sub-state tournament with a first-round loss to Wathena-Riverside. With a bigger lineup on the floor this season, though, Koch's squad is determined to put a few more tallies in the win column.
"Last season, our team was very short," Koch said. "We had an extremely hard time at the net. This year, we've got more size. We're a smaller group, but we finally have some height. I think we're going to do better than we did last year."
Koch must replace one of last year's top players in 2012 graduate Terri Stewart, but will look for a trio of incoming seniors to provide immediate leadership. Alex Adams and Kaitlyn Hullinger return as starters from a year ago, while Kaitlyn Tomlinson is new to the squad.
Level of experience aside, Koch said she'll look to the seniors to keep team morale as high as possible throughout the year.
Adams was optimistic after the Bulldogs' first week of practice and hopes the team's strong start will lead to some early victories.
"Everybody is doing pretty good this year," she said. "We're a lot better than what we've been in previous years so far. We didn't start off that bad. I want to show them that our volleyball team can win more than lose this year. That's pretty much my main goal."
Following last Friday's practice, Koch revealed the varsity and junior varsity rosters to the team's 16 members. Players will continue to transition into their roles and gel as a cohesive unit until the start of the regular season.
"We know the positions we want them to be in," Koch said. "Now we just have to get them comfortable in those spots."
The varsity squad will open competition Aug. 25 when it participates in the Jeff West tournament. McLouth's first home action will be Sept. 18 when it plays host to Jefferson County North and Pleasant Ridge.
2012 MHS volleyball schedule
Aug. 25 at Jeff West tourney (V), 8 a.m.
Aug. 28 at Valley Falls (V/JV), 5 p.m.
Sept. 4 at Oskaloosa (V/JV), 5 p.m.
Sept. 8 at Ne. Valley tourney (V), 9 a.m.
Sept. 11 at Immaculata (V/JV), 5 p.m.
Sept. 18 vs. JCN/Pl. Ridge (V/JV), 5 p.m.
Sept. 22 at Ja. Heights tourney (JV), 9 a.m.
Sept. 24 at Oskaloosa (JV), 5:30 p.m.
Sept. 25 at Pleasant Ridge (V/JV), 5 p.m.
Sept. 29 at Valley Falls tourney (V), 9 a.m.
Oct. 2 vs. Imac/V. Falls (V/JV), 5 p.m.
Oct. 4 at Atchison (V/JV), 4:30 p.m.
Oct. 13 at Ja. Heights tourney (V), 9 a.m.
Oct. 16 at DVL tourney (V), TBA