Chieftain runners focus on unity as 2012 season begins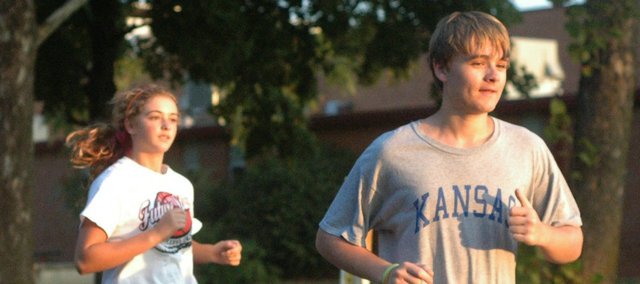 Preparations for the upcoming cross country season began more than a month ago at Tonganoxie High, and the start of the 2012 campaign is finally in view.
The Chieftains will open the season Aug. 30 with a dual against Lansing after several weeks of conditioning. Several runners participated in a summer program throughout the month of July, then the team officially began practice at 12:01 a.m. on Aug. 13.
"I'm excited about this group," coach Phil Williams said. "We've got a lot of good attitudes. We've got a lot of young kids who haven't run too much before, but they're working hard. I think we're going to be competitive, boys and girls."
The THS boys enter the season in search of their third straight state bid. They capped off the 2011 season with a seventh-place showing in Wamego. The team ended a three-year hiatus when it made the state cut in 2010.
With four varsity runners back this season, the Chieftains are optimistic they can build on their recent success.
"I hope we can make it to state this year," junior Andrew Behm said. "I feel like we have a strong team this season, so everybody should do a good job."
Gone from last year's varsity squad are 2012 graduates Patrick Rachford, Caleb Himpel and Dalton Harrington. However, senior Jeff Neal, junior Clayton Himpel, sophomore Brad Andrews and sophomore Garrett Frech return after running at last year's state meet.
The girls haven't qualified for state since 2006, but return nearly all of their varsity runners from a year ago. Senior Amanda Shepley headlines a group of six returners that helped THS to a fourth-place finish as last year's Kaw Valley League meet.
"We want to improve our speed and stay together as a group so we can move our team up," Shepley said. "We all try to work together as a group and motivate each other, especially at the end of the season. It's kind of like a family thing, so that's really nice."
Other girls back from last year's varsity team include a trio of juniors in Halston Field, Alissa Donnelly and Taylar Morgan, as well as a pair of sophomores in Tressa Walker and Emily Williams.
Following next week's opener, the Chieftains will head Sept. 6 to Effingham for the ACCHS Invitational.
2012 THS cross country schedule
Aug. 30 vs. Lansing, 4 p.m.
Sept. 6 at ACCHS Inv., 4:30 p.m.
Sept. 13 at McLouth Inv., 4 p.m.
Sept. 18 Tonganoxie Inv., 4 p.m.
Sept. 22 at Rim Rock Inv., 10 a.m.
Sept. 27 at Maranatha Inv., 4 p.m.
Oct. 4 at Pleasant Ridge Inv., 4 p.m.
Oct. 11 at KVL (Bonner Springs), 4 p.m.
Oct. 20 at Regionals, TBA