Livestrong partnership with Sporting
KC

not in jeopardy despite Armstrong losing titles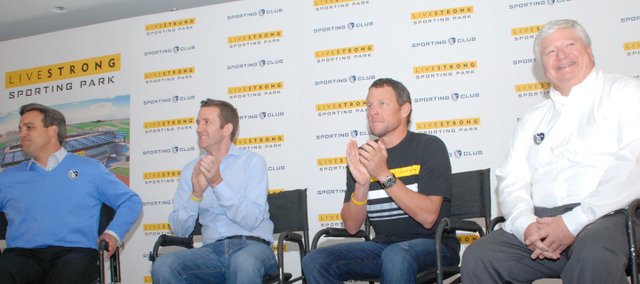 Thursday's revelation that Lance Armstrong would be stripped of his seven Tour de France titles amidst allegations of doping will not affect the naming rights of Sporting Kansas City's stadium, CEO Robb Heineman said on Friday.
"The naming rights partnership between our stadium and Livestrong provides an opportunity to spread health and wellness messages that emphasizes the spirit of cancer survivorship," Heineman said in a statement Friday. "Livestrong's focus is the fight against cancer and the support of 28 million people around the world affected by this disease, and we believe strongly in this mission."
On Thursday, the U.S. Anti-Doping Agency stripped Armstrong of his record seven Tour de France titles and banned him from cycling for life.
Armstrong won his titles between1999 to 2005 and retired from the sport last year. On Thursday, Armstrong said he would no longer challenge the USADA, but still denied ever taking banned substances during his career.
In 2011, Armstrong appeared in Kansas City, Kan. to christen the newly minted Livestrong Sporting Park, whose naming rights are owned by Armstrong's nonprofit organization that works to support cancer patients while also seeking a cure for the disease.
The Associated Press contributed to this story.