McLouth volleyball struggles at Jeff West Invitational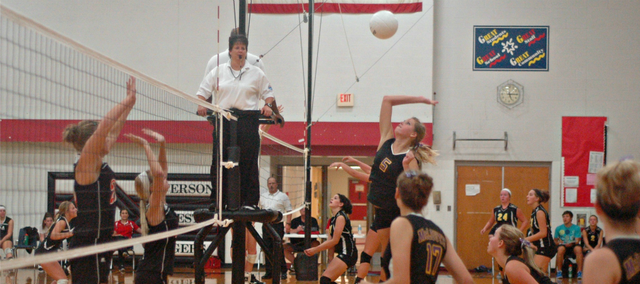 Meriden — The McLouth High volleyball team knew it would face a tough test when it opened the 2012 season Saturday at the Jeff West Invitational. The Bulldogs came out swinging, but weren't able to overcome their lack of depth and experience.
Pitted against larger, more veteran teams all day, MHS struggled to an 0-5 showing in tournament play.
"That's a very tough tournament for us to start in," coach Kay Koch said. "You're getting some heavy hitters from bigger schools. I thought what was kind of pestering us was our lack of depth because we just don't have the numbers this year."
Entering the season, McLouth had just three players with any varsity experience. Koch said she promoted two junior varsity players prior to the tournament to add some depth to the roster.
The Bulldogs got off to a good start in their tournament opener against Delaware Valley League opponent Atchison County Community High School. They won the first set, 25-19, but ACCHS responded with 25-16 and 25-14 wins to take the match.
"We did exactly what we wanted to do — come out strong and take control," Koch said. "We did that wonderfully, but we just couldn't do it again."
Things didn't get any easier for MHS in its second match — a tussle with 2011 sub-state finalist and tournament champion Silver Lake. The Eagles got off to a fast start against the Bulldogs and won in straight sets, 25-14 and 25-6.
McLouth wrapped up the tournament's morning session with a match against another league foe in Jefferson County North. Unfortunately, the results were the same, as JC North swept MHS, 25-15 and 25-13.
Following an afternoon break, McLouth returned to the court against tournament host Jeff West. The Bulldogs' struggles continued, as they fell to the Tigers, 25-16 and 25-14. They closed out tournament play against DVL team Valley Falls, again losing in straight sets, 25-20 and 25-10.
Silver Lake clinched the team championship, going a perfect 5-0. Jeff West took second (4-1), followed by Valley Falls (3-2), JC North (2-3) and ACCHS (1-4), respectively.
Despite going winless, McLouth wasn't without its bright spots. One in particular was the play of sophomore libero Angela Dailey, who was successful on 70 percent of her dig attempts.
"(Dailey) was in on almost every single play," Koch said. "I was very impressed with her. She's new to varsity, but to me, she was the MVP of the tournament."
McLouth will return to the court Tuesday when it heads to Valley Falls for a triangular with VFHS and Oskaloosa.
"(Saturday) was a wake-up call for our girls for sure," Koch said. "We saw we'll have to be in better shape, so we'll be doing more conditioning. We need to be able to last longer and expect more out of the girls we do have."