Chieftain volleyball opens season with win over Atchison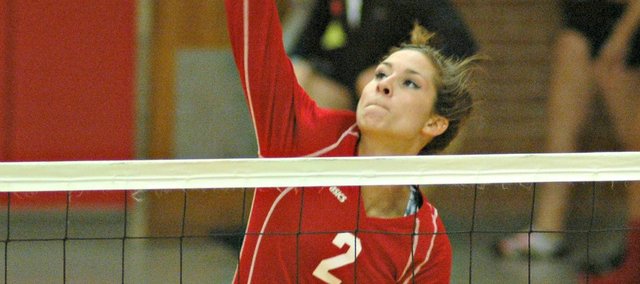 Photo Gallery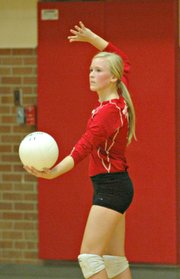 THS volleyball vs. Atchison
The Tonganoxie High volleyball team opened its season in winning fashion Monday, taking down Atchison in four sets.
There were some cobwebs to shake off and first-game jitters to overcome, but when the Tonganoxie High volleyball team left the court after Monday's season opener against Atchison, it did so in the win column.
The Chieftains (1-0) struggled in the first two sets, but used a late surge to defeat the Lady Red (0-1) in four sets, 28-26, 19-25, 25-11 and 25-20.
"For our first night, I was pleased with our effort and how we played and held together as a team," coach Tiffany Parker said.
The teams traded blows in the first set until a 7-1 run gave the Chieftains a 16-12 advantage. However, Atchison chipped away at the lead and eventually went in front, 24-23. THS then fended off two set points and used a 4-1 burst to take the first set.
An early 9-0 run by Atchison set the tone in the second set, and the Chieftains faced an uphill battle the rest of the way. They battled back to take a 15-14 lead, but AHS scored four of the next five points to regain control and held on for a 25-19 win.
In addition to early-season rust, Parker credited the shaky start to the fact that her squad had just three players with varsity experience prior to the match.
"When you're working with new kids and new positions, we kind of have to figure it out," she said. "There's only so much true game experience you can get in a practice."
The Chieftains' fortunes were quickly reversed in the third set, as they exploded out to a 17-3 lead and never looked back. Atchison scored some points late in the set, but the outcome was never in question as THS cruised to a 25-11 win.
"We came out and dominated that set," Parker said. "You could tell we were in better condition at that point. We've been working on competing this past week, and we came out and really took it to them."
Atchison jumped out to a 6-1 lead in the fourth set, but THS bounced back with a 9-3 run to go in front. The teams traded points and found themselves in a 17-17 stalemate, but the Chieftains slammed the door with a match-ending 8-3 run.
Senior Jenny Whitledge finished with a team-high 23 kills and junior Marissa Martin led the way with 11 digs.
THS will have a quick turnaround before its next action, as Kaw Valley League opponent Turner will pay a visit on Tuesday. The freshman team will start things off at 5 p.m.
"The game plan is to win in three tomorrow," Parker said. "The less impact we put on our bodies, the better."