Tonganoxie falls to Baldwin in season opener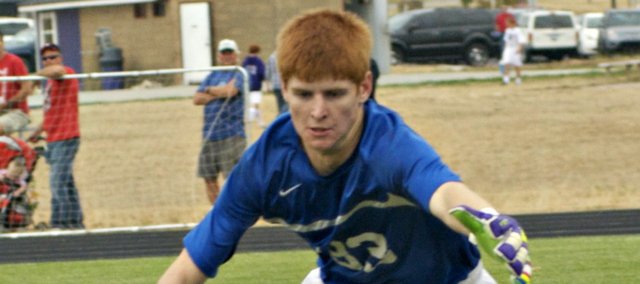 Baldwin City — Baldwin High School edged Tonganoxie, 2-1, on the strength of two quick second-half goals in what was the season opener to two state qualifying teams from a year ago.
The contest matched up two soccer teams with contrasting styles with the bigger Tonganoxie team favoring a more physical game and Baldwin looking to take advantage of speed at key positions.
"That was a very hard-fought soccer match," Tonganoxie coach Brian Kroll said. "Both teams played very well."
Tonganoxie grabbed a 1-0 lead with 3:54 to play in the first half when junior Dylan Olson scored from in front of the goal. The Chieftains had other excellent opportunities to score in the first half but couldn't convert.
Baldwin also had a difficult time finishing. The Bulldogs' frustration ended when junior Russell Cloon scored from the right side of with 29:49 left in the game.
Ten minutes later, the Bulldogs got the lead when junior Nick Joslyn centered the ball into the box where junior Alec Petry got a foot on it. The ball dribbled to the line where it appeared to die before spinning into the goal.
The Bulldogs were content to concentrate on defense as the remaining clock ran down. Officials, meanwhile, started calling the Chieftains for numerous fouls, giving the visitors yellow cards on three occasions.
"Communication," Kroll said when asked what area his team needed work on. "We need to work on communicating better out there."
Tonganoxie will be in action Tuesday when it travels to Bonner Springs for a Kaw Valley League matchup at David Jaynes Stadium. A game recap will be available at tonganoxiemirror.com.
Chieftains welcome alumni for scrimmage
The Chieftains won't officially open their home schedule until a Sept. 4 meeting with Atchison, but fans got a sneak peek of the 2012 squad last week at the high school field.
THS welcomed 16 alumni ranging from the class of 2004 to last year's graduates for the school's inaugural alumni game on Aug. 21. More than 100 spectators showed up for the event, which current and former players both hope will become an annual tradition.
"It was great to come back for the annual game," 2004 grad Shane Cooper said. "I talked to (athletic director Brandon) Parker and tried to get one of these organized for about the last year, and coincidentally, Kroll had the same idea. I think next year, it's going to be quite a bit bigger."
Kroll echoed those thoughts, applauding the dedication of the alumni who made the trip to Tonganoxie — particularly those who are still in school.
"For something that we just basically threw together, this was huge," Kroll said. "I know five of (the alumni) came back from college for it."
The teams played two 35-minute halves and the alumni prevailed in a shutout victory. There were performances by the THS cheerleaders and Chieftain Stars dance team between halves.
Cooper, who now lives in Bonner Springs, said he'd like to see the event also utilized as a fundraiser in honor of Courtney King, another 2004 soccer alum who was diagnosed with Parkinson's disease at age 21.
— Mirror sports editor Justin Nutter contributed to this story.