Chieftain soccer wins
OT

thriller at Bonner Springs
Photo Gallery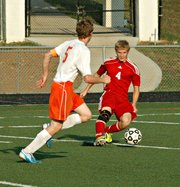 THS soccer at Bonner Springs
The Tonganoxie High boys soccer team earned its first win of the season Tuesday in a 2-1 overtime victory at Bonner Springs.
THS 2, BSHS 1 (OT)
First half scoring
Nick Korosec (BON) — 14:50
Second half scoring
Evan Stilgenbauer (TON) — :21
Overtime scoring
Matt Saathoff (TON) — 6:48 (Zack Tallent assist)
Bonner Springs — Ever since Tonganoxie High's first day of soccer practice, coach Brian Kroll has emphasized the importance of playing a sound game. The Chieftains weren't always in sync in Tuesday's game at Bonner Springs, but they were at their best when it mattered most.
THS forced a tie in the final minute of regulation and later clinched a 2-1 victory in overtime at David Jaynes Stadium.
"When we play good soccer, good things are going to happen," Kroll said. "Tonight, we played good soccer. There were moments where we didn't play good soccer and it was obvious, but for the most part, I felt like we controlled the game."
The Chieftains (1-1) gave up a goal midway through the opening period and it looked as though the Braves (0-1) would preserve their 1-0 lead in the second half, but Kroll's squad finally broke through in the final seconds. Senior Keaton Truesdell threw the ball in and junior Evan Stilgenbauer fired a shot from nearly 50 yards out. The ball got over the outstretched hands of Bonner Springs goalkeeper Dominic Salvino and bounced over the line with 21 seconds left on the clock.
"In crunch time like that, it's about putting a shot on-frame," Kroll said. "It's got to be under the eight feet and in between the 24 and it's got an opportunity. Any other day, that keeper is going to save that, but it just so happened to go."
Bonner Springs failed to get off a shot attempt in the final 21 seconds, so the game went to a 10-minute overtime period.
Tonganoxie, which went undefeated in overtime games last season, dominated the extra period from the beginning. Sophomore Asher Huseman came up wide on a shot attempt in the opening minutes, but a pair of seniors sealed the deal a few minutes later.
Matt Saathoff, who missed on a free kick in the second half, received a pass from Zack Tallent and skipped it by Salvino to end the game with 6:48 remaining.
"Zack got the ball and had a great touch," Saathoff said. "I came around the left side and he put a ball between two defenders and hit me for the one-touch easy shot. It was a great feeling."
The win was the Chieftains' first over Bonner Springs in Kroll's four-plus seasons with the program.
THS will have a day off before it travels Thursday to Basehor-Linwood for another Kaw Valley League showdown. The junior varsity squad will start things off at 4:30 p.m.