McLouth football opens Friday with Nemaha Valley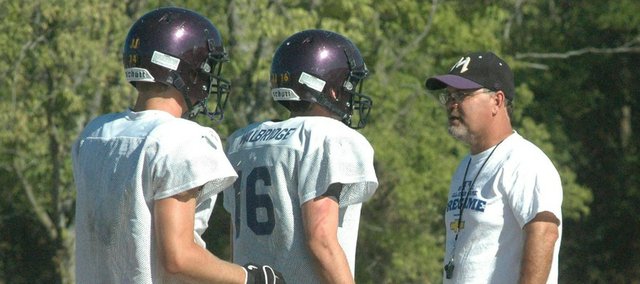 The McLouth High football team will begin its quest for a playoff bid Friday when it opens the 2012 season at home against Class 3A and Big Seven Conference school Nemaha Valley. Kickoff is set for 7 p.m. at the Stan Braksick Sports Complex.
The Bulldogs, who moved to Class 2-1A prior to this season, didn't play the Raiders last season. Both teams had winning records, but missed the playoffs in 2011. McLouth went 7-2 — its best season under coach Chris Stewart, who enters his fifth year — while Nemaha Valley, which is in Seneca, went 5-4.
"We've seen some (film) of them from last year," Stewart said of NVHS. "They had a lot of seniors last year and they were a really good team. From what I can tell, they've got at least three or four who are returners who will be pretty good."
Both teams will be without some of their top offensive weapons from a year ago. MHS must replace running back Shawn Dailey, who ran for 1,126 yards and 19 touchdowns last season. NVHS is without quarterback Alex Hermesch, who threw for 702 yards, ran for 430 more and totaled 11 scores in 2011.
The Raiders must also replace running backs Chase Copeland and Andrew Todd, who combined for 932 yards and 18 touchdowns.
McLouth is 3-1 in season openers under Stewart, including a 2-0 mark at home.
"It's been a long two weeks (at practice). We've worked them hard." Stewart said. "They're definitely ready to start doing some hitting and getting into some games."