THS

football team to face tough test Friday at Lansing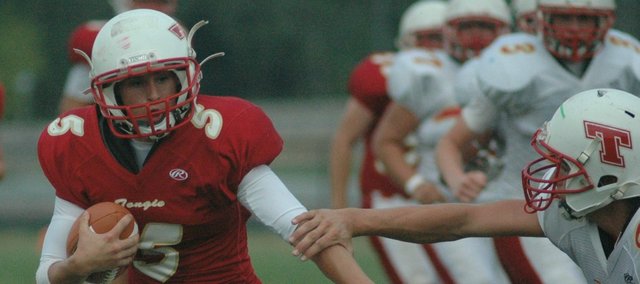 Photo Gallery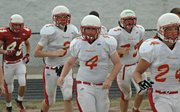 Red-White football scrimmage
Tonganoxie High had its annual Red-White football scrimmage last Friday at Beatty Field. The Chieftains will travel Friday to Lansing for their 2012 season opener.
More than two weeks ago, Tonganoxie High began its football season at the first possible minute. With the Chieftains' first game now just two days away, all their hard work and preparation are about to be put to the test.
THS will open its 2012 slate Friday at Class 5A Lansing. Kickoff against the Kaw Valley League foe is slated for 7 p.m. at Frank Graham Field.
"Everything is positive," first-year head coach Al Troyer said. "We're getting ready to go. We'll play one team at a time, but we've been geared up for Lansing for quite a while. That's the first game, so it's all we've been focused on."
The Chieftains will take on a Lansing team that went 5-5 a year ago, exiting the Class 5A playoffs after a 56-7 loss to Blue Valley in the first round. The Lions are looking to fill the voids left by 2012 seniors Litton VanDerWerff and Nick Hughes, who accounted for 1,656 yards of offense and 21 touchdowns a year ago.
Despite losing big offensive numbers from last season, Troyer expects the Lions to field another potent offensive team when they take the field on Friday.
"They're going to be tough," he said. "They're going to look to run the ball a lot and they've got some pretty good size up front. They can run the option, they'll run counter, they'll run trap at us — just stuff that they've done for years. It should be a good, exciting ball game.
"I think we match up with them pretty good. We've got some guys with some size of their own. They've got some pretty good team speed, so we've got to stop them before they can get going."
Tonganoxie will see its first action without 2011 starting quarterback Garret Elston. Elston accounted for 562 yards of offense and five touchdowns as a junior last season, but transferred for his senior year.
Lansing spoiled Tonganoxie's homecoming last season, handing the Chieftains a 37-7 defeat at Beatty Field. THS trailed by just six early in the third quarter, but the Lions removed all doubt when they closed out the game with 24 unanswered points.
However, with a new head coach and several new starters on the bill for 2012, the Chieftains aren't placing much emphasis on last season — or any other season, for that matter.
"We're starting over. We're not looking in the past," Troyer said. "I wasn't a part of last year, so we're coming in here all new. We've got a clean slate, so we'll see what we can do with it."
A win Friday would be the Chieftains' first against Lansing since 2006, when they won the season opener at Beatty Field, 37-14.
Big plays highlight annual Red-White scrimmage
The Chieftains gave local football fans a season preview last Friday when they squared off in their annual Red-White scrimmage.
Starters were divided evenly among the two teams — a change from recent years — and spectators were treated to several big offensive plays, including numerous long runs by juniors Tyler Ford, Shane Levy and Cole Holloway.
"You're always curious to see how it's going to look after a new system is installed, but I thought they executed pretty well," Troyer said.