Mermaids top new features at
KC

RenFest, opening this weekend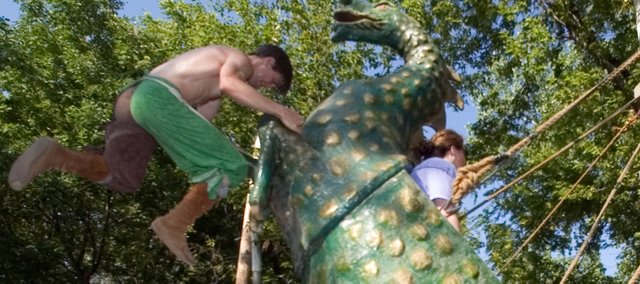 The Kansas City Renaissance Festival opens this weekend, with Magical Mermaids and a royal pub crawl among its new offerings, and film about jousting also will be shot during the festival.
The Renaissance Festival will run 10 a.m. to 7 p.m. on weekends from Sept. 1 through Oct. 14, including Labor Day and Columbus Day. While the festival will offer many new entertainment features this year, the biggest is definitely the Magical Mermaids in Mermaid Cove, a new area of the festival site.
"It's going to be probably the hottest thing at the show this year," said Will Peterson, marketing coordinator for the festival.
A large water tank that festival-goers can walk through will have a mermaid or two swimming inside, who will interact with her viewers.
Another new feature will be provided in part by area residents. The new "Secret Garden" will include fairy houses submitted through a contest on the festival's Facebook page. Peterson said more than 30 houses were submitted. The Fairy Forest, adjoining the Secret Garden, also will be a new feature this year.
Other new attractions include:
• Barbarian Battle – Patrons can test their bravery as they fight tooth and nail against other patrons and players. The free daily event will take place on the joust field. The last warrior standing wins the title of Bravest Barbarian and a grand prize, as will best costume.
• Royal Pub Crawl – In this twice-daily ticketed event, patrons follow Canterbury's salty wenches on a 90-minute tour through three of the festival village's pubs. The tour includes three beers and a Renaissance Festival mug.
• Princess Court – While Henry VII is the king of the festival this year, with Queen Catherine Parr (his sixth wife), some visiting princesses will stroll through the village bestowing regal honors upon patrons young and old.
• Human Combat Chess – the festival has featured this event previously, but it is making a return with a new show. The White Knight will battle the King's Pawn for the enjoyment of the King and Queen.
The festival also will have themed weekends, starting off with "Silk Road," with belly dancing and martial arts activities. A belly dancing competition will take place at 4:45 p.m. each day at the Wishing Well Stage, and Raghsidad & Aalim dancers will perform six shows a day on the Tea Garden Stage. Martial arts demonstrations also will take place on the grounds.
The other weekend themes will be: Highland Games, Sept. 8-9; Pet Festival, Sept. 15-16; Shamrocks and Shenanigans, Sept. 22-23; Wine, Chocolate and Romance, Sept 29-30; pirate's Ale Fest, Oct. 6-8; and Mystical Masquerade, Oct. 13-14.
In October, the festival also will be the site of filming for a Los Angeles-based filmmaker originally from Kansas City.
Stew Redwine plans to shoot his next short film, "The Joust," Oct. 6-8 at the festival. Auditions for the film will be held opening weekend, Sept. 1-3, and Redwine also will work with Iowa-based jousting company Joust Evolution.
For more information on the festival, visit kcrenfest.com.