THS

boys win, girls take second at home cross country meet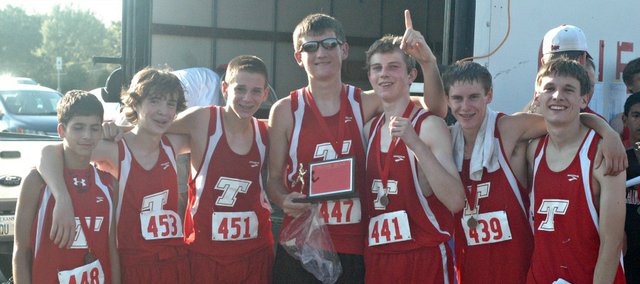 Despite high temperatures and a rough terrain, the Tonganoxie High cross country started its season off with plenty of success.
The Chieftain boys clinched the team title while the girls finished second at their home triangular Thursday at Tonganoxie Middle School. The boys defeated Kaw Valley League opponent Lansing, 23-34, and the girls finished behind the Lions, 19-36.
The third team in the triangular, Kansas City Christian, did not field a full team on either side.
"Considering the conditions, I was very happy," coach Phil Williams said. "Our girls did better against (Lansing) than they did last year, so I was real pleased with that. Our varsity boys ran well. They competed as hard as they could and gave everything they had."
The Chieftains and Lions have squared off in the first race of the season every year since 1970.
Sophomore Garrett French claimed the individual title in the boys race with a time of 18:33. Other THS boys to medal were senior Jeff Neal (third overall, 19:33), freshman Ethan Phillips (fifth, 20:17) and junior Andrew Behm (sixth, 20:19).
On the girls side, freshman Nicole Zerrer led the team with a time of 18:12 — good for fifth place overall. Fellow freshman Sophia Wetta was the only other Chieftain medalist, finishing seventh with a time of 18:37.
THS will be back in action Sept. 6 when it travels to Effingham for the Atchison County Community High School Invitational.
"This sport it 90 percent confidence," Williams said. "If you start out well, it will really help you for the next week and so on."
Boys team standings
Tonganoxie 23, Lansing 24, KC Christian N/A
Boys Top 10 results
1. Garrett French, TON, 18:33; 2. Chris Brown, LAN, 19:09; 3. Jeff Neal, TON, 19:33; 4. Joe Walter, LAN, 20:16; 5. Ethan Phillips, TON, 20:17; 6. Andrew Behm, TON, 20:19; 7. Jack Bresser, LAN, 20:47; 8. Dylan Staatz, TON, 21:20; 9. Brett Morey, TON, 21:27; 10. Dylan Root, LAN, 21:29.
THS boys individual results
Garrett French, 18:33; 2. Jeff Neal, 19:33; 3. Ethan Phillips, 20:17; 4. Andrew Behm, 20:19; 5. Dylan Staatz, 21:20; 6. Brett Morey, 21:27; 7. Jake Tollefson, 22:05.
Girls team standings
Lansing 19, Tonganoxie 36, KC Christian N/A
Girls Top 10 results
Nashia Baker, LAN, 15:33; 2. Malika Baker, LAN, 15:49; 3. Rachel Ash, KCC, 17:09; 4. Caitlin Laneve, LAN, 17:45; 5. Nicole Zerrer, TON, 18:12; 6. Catherine Strehlow, LAN, 18:31; 7. Sophia Wetta, TON, 18:37; 8. Emily Williams, TON, 18:44; 9. Abbie Hilliard, LAN, 18:59; 10. Tressa Walker, TON, 19:02.
THS girls individual results
Nicole Zerrer, 18:12; 2. Sophia Wetta, 18:37; 3. Emily Williams, 18:44; 4. Tressa Walker, 19:02; 5. Amanda Shepley, 19:36; 6. Taylar Morgan, 20:10; 7. Shelby Fatherley, 20:46.