Chieftain football gets by Lansing in opener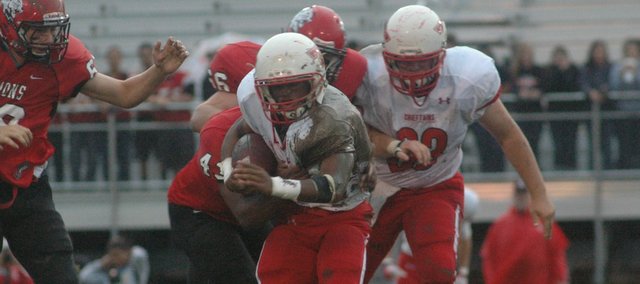 Photo Gallery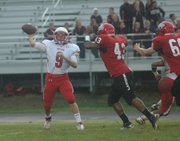 THS football at Lansing
The Tonganoxie High football team picked up a 22-20 win Friday at Lansing.
Lansing — A steady rain turned the football field into a mud pit, which gradually changed Tonganoxie High's new white jerseys to a dark shade of brown, but the adverse weather hardly put a damper on the start of a new era.
Junior Cole Holloway ran for 200 yards and three touchdowns and Tonganoxie held on for a 22-20 win over Lansing Friday at Frank Graham Field.
"The thing we talked about all summer is believing," first-year head coach Al Troyer said. "You could see it as they went on. They got stronger and they got stronger. Even though adversity came to them, they were going to still be resilient and fight through it."
THS (1-0 overall, 1-0 Kaw Valley League) trailed by six points at halftime, but scored twice in the first five minutes of the third quarter to take a two-possession lead. Following an interception by junior Jordan Boudreaux, Holloway punched it in on a five-yard run and junior Eric Tate added the extra point to give the Chieftains a 14-13 lead with 9:09 left in the third quarter.
Just 2:09 later, Holloway broke free for a 49-yard touchdown run and junior Tyler Ford added a two-point conversion to put THS up, 22-13.
Holloway, who missed all but one game with an injury last season, led all backs with 27 carries.
"I couldn't have done it without my offensive line, my quarterback, everybody," Holloway said. "They helped me through the whole thing. I kind of started cramping in the second half, but everybody was just picking me up and telling me to keep going."
LHS (0-1, 0-1) got within two on a 22-yard touchdown pass from senior Jordan Sommerla to senior Lucas Mein in the final minute of the period. That's as close as the Lions got, though, as the the Tonganoxie defense forced a three-and-out and three turnovers in the fourth quarter, which LHS spent with the wind in its face.
The Chieftains iced the game when Boudreaux hauled in his second interception of the game with 1:42 remaining.
"You know that old adage 'offense wins game, but defense wins championships?' Well, we won on defense tonight," Troyer said. "We knew we had to run the ball because of the weather. When we put (Lansing) in throwing situations, we knew we had the advantage."
Sommerla went 14-of-29 for 217 yards and three touchdowns, but was just 1-of-5 with an interception in his final five attempts. The Lions' ground attack was a non-factor, as THS held its opponent to minus-7 rushing yards on 21 carries.
Lansing struck first on an 18-yard touchdown pass from Sommerla to Mein with 9:23 left in the first quarter. THS answered with a 61-yard run by Holloway with 10:29 left in the second. That forced a 7-7 tie, but the Lions went back in front less than two minutes later when Sommerla hooked up with junior Kahlil Bailey for a 49-yard score.
The Lions didn't allow another Chieftain score before the break and took a 13-7 lead into the locker room.
The Chieftains, who won just one game in each of the last two seasons, hadn't defeated Lansing since 2006. They'll return to Beatty Field at 7 p.m. Sept. 7 for their home opener against Atchison. The Redmen rolled to a 46-6 win Friday at Pleasant Ridge.
"It feels great to start the season off with a win," Holloway said. "We've just got to keep it going. In past years, when we've started on a high note, we've let it slide. We've got to keep it rolling this time."
Score by quarters
THS 0 7 15 0 — 22
LHS 7 6 7 0 — 20
First quarter
LHS — Lucas Mein 18 pass from Jordan Sommerla (Brad Brown kick), 9:23
Second quarter
THS — Cole Holloway 61 run (Eric Tate kick), 10:29
LHS — Kahlil Bailey 49 pass from Sommerla (kick failed), 9:00
Third quarter
THS — Holloway 5 run (Tate kick), 9:09
THS — Holloway 49 run (Tyler Ford run), 7:00
LHS — Mein 22 pass from Sommerla (Brown kick), :25
Rushing
THS: Cole Holloway 27-200, Shane Levy 13-33, Cody Saladin 1-0, Tyler Ford 15-(-2); LHS: Lucas Mein 8-8, Tyler Ayres 1-0, Jordan Sommerla 12-(-15).
Passing
THS: Tyler Ford 5-11-2 8; LHS: Jordan Sommerla 14-29-2 217.
Receiving
THS: Shane Levy 3-13, Jared Sommers 1-(-1), Cody Saladin 1-(-4); LHS: Lucas Mein 9-121, Kahlil Bailey 3-90, Kenneth Banks 1-6.